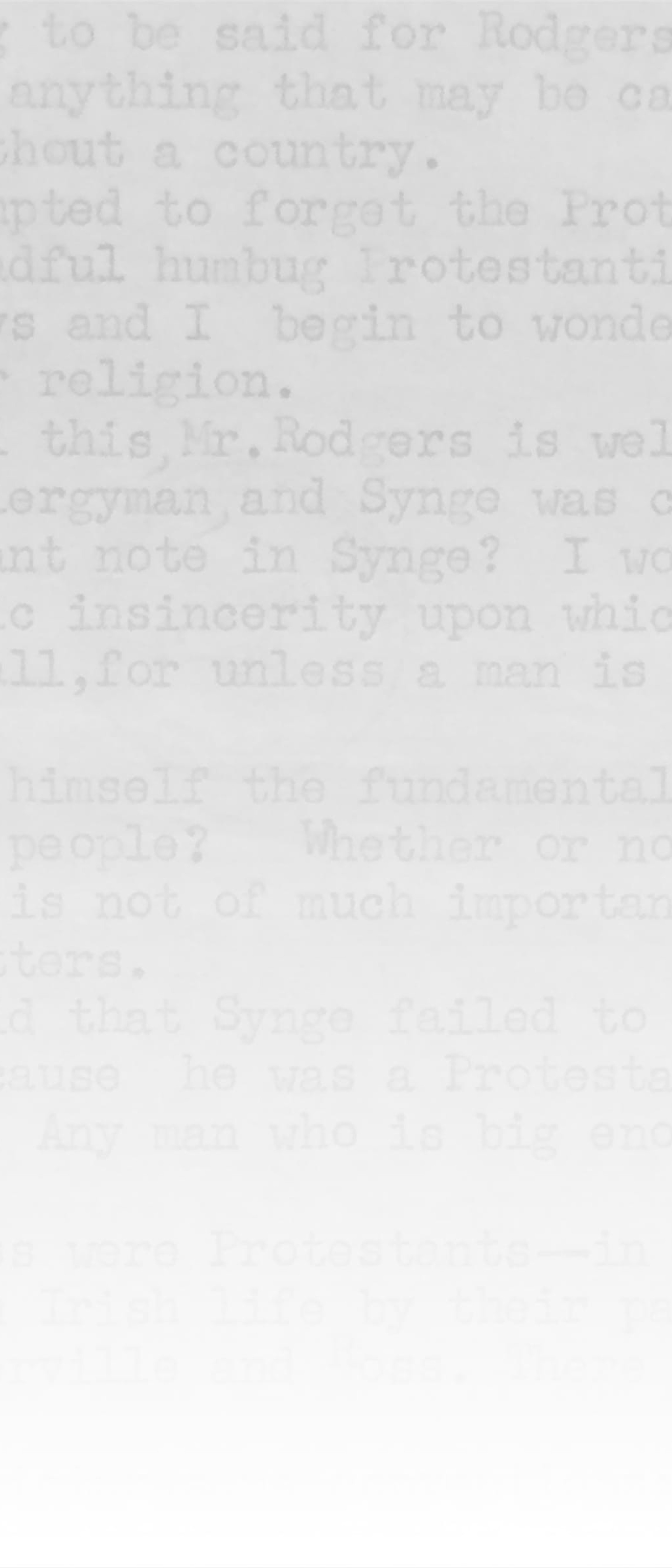 The Parish, The Universe
Patrick Kavanagh and the world of the literary magazine
Patrick Kavanagh, one of Ireland's most revered poets of the twentieth-century, is popularly known as a poet of place, from his early life as a farmer in rural Inniskeen, Co. Monaghan, to his later years in Dublin celebrating the Grand Canal. This exhibition, curated by Dr. Conor Linnie, follows Kavanagh on a different journey to tell the story of the magazines that made the poet. 
The Parish, The Universe draws from the rich material of the Patrick Kavanagh Archive, held at UCD Library Special Collections, to explore the world of the literary magazine and how it shaped Kavanagh's remarkable life and work. Literary magazines have continued to provide a vital platform for writers and artists in Ireland from Kavanagh's time to the present day. Independent and fearlessly innovative, magazines connect writers with readers and create cultural communities extending from the page to the wider world. "

How strange a thing like that happens to a man. He dabbles in something and does not realise that it is his life."
– Patrick Kavanagh, Kavanagh's Weekly, 10 May 1952
Patrick Kavanagh (1904–1967)
Born in 1904, Kavanagh was the eldest son of a cobbler and small farmer in Inniskeen, County Monaghan. Kavanagh left school at the age of thirteen and spent the following two decades working the family land for a meagre income. Throughout this time he nurtured a private love of poetry, writing verse by candlelight in the upstairs room of the farmhouse. In August 1925, while at a grass and seed market in Dundalk, Kavanagh came across a copy of the journal the Irish Statesman in a bookstall.
Edited by George William Russell (A.E.), a prominent member of the Literary Revival and a well-known personality in Dublin, the Irish Statesman published Kavanagh's early poetry and opened the literary connections that encouraged him to move to the city and become a writer. From the 1930s until his death in 1967, Kavanagh established himself as Ireland's foremost poet since W.B. Yeats, publishing a range of celebrated works in poetry including Ploughman and Other Poems (1936), The Great Hunger (1942), A Soul For Sale (1947) and Come Dance with Kitty Stobling and Other Poems (1960); and works in prose including The Green Fool (1938) and Tarry Flynn (1948).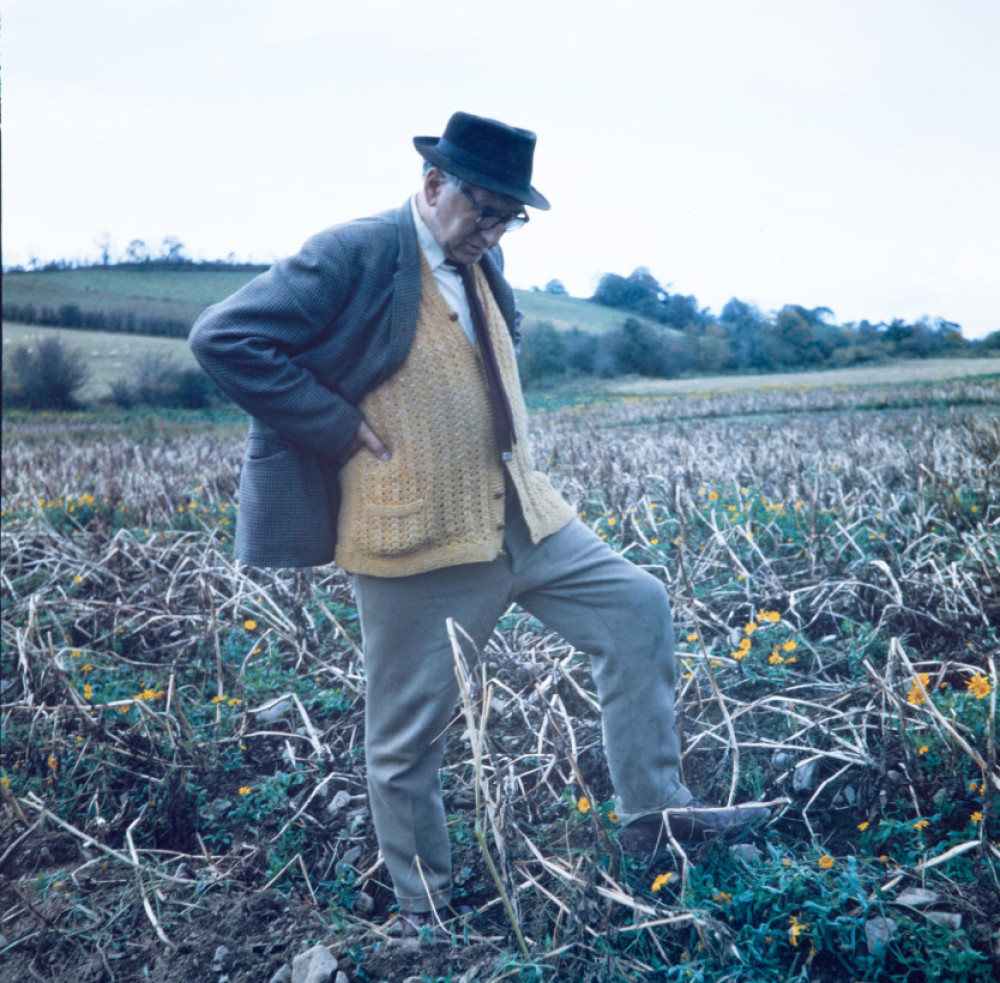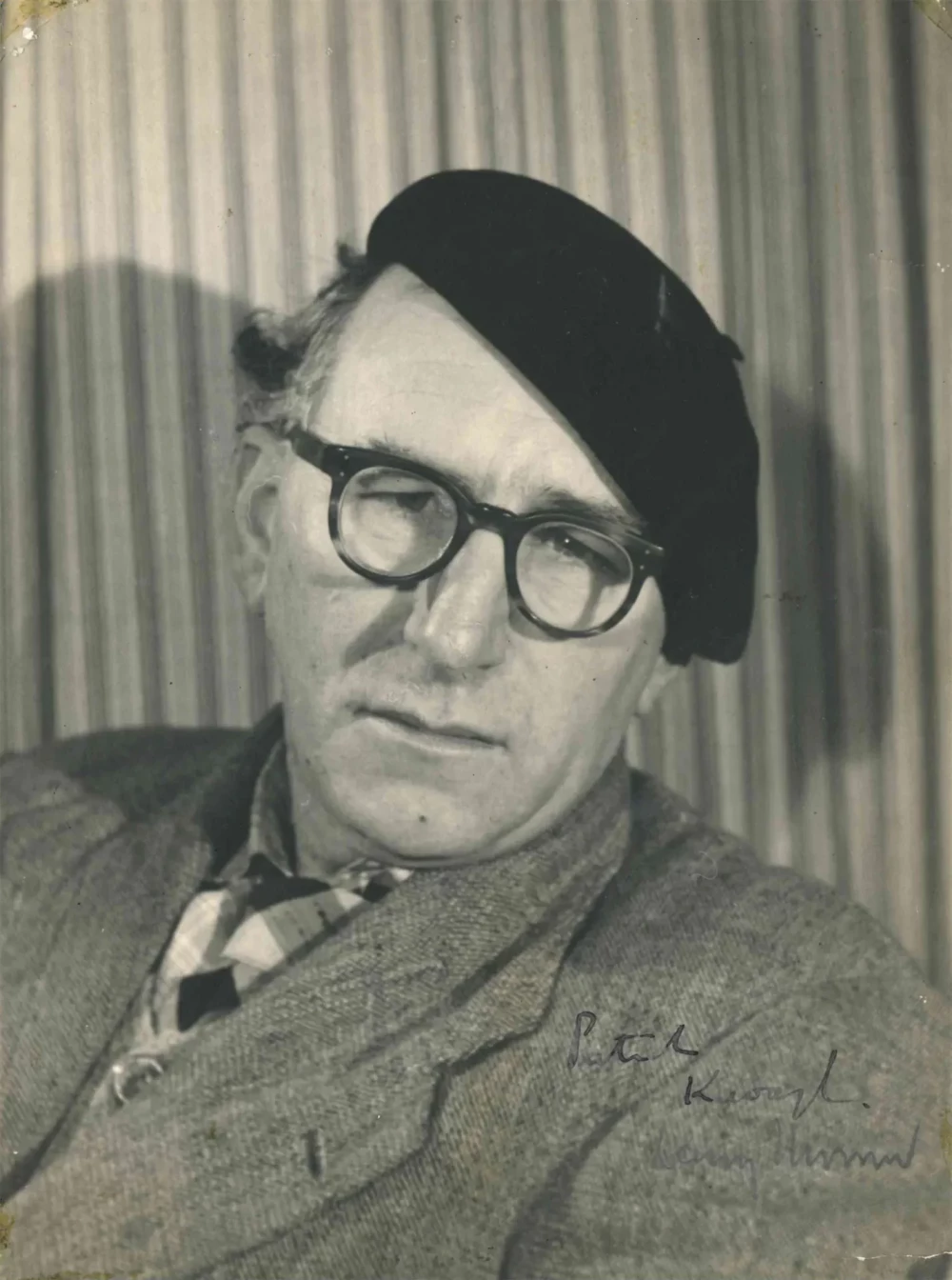 Gallery
The world of literary magazines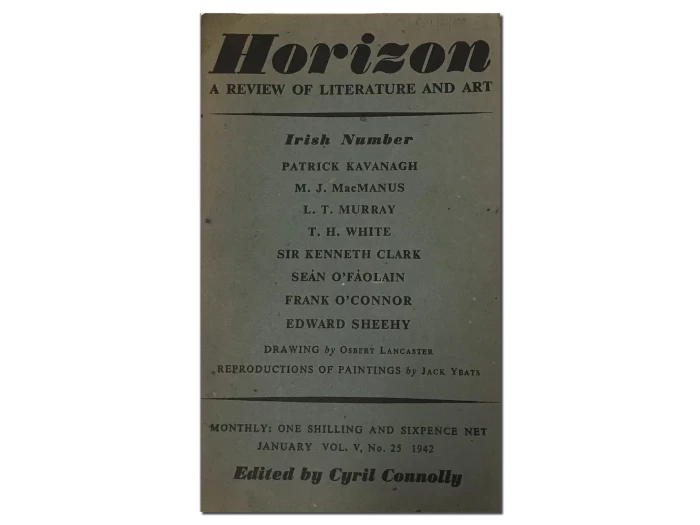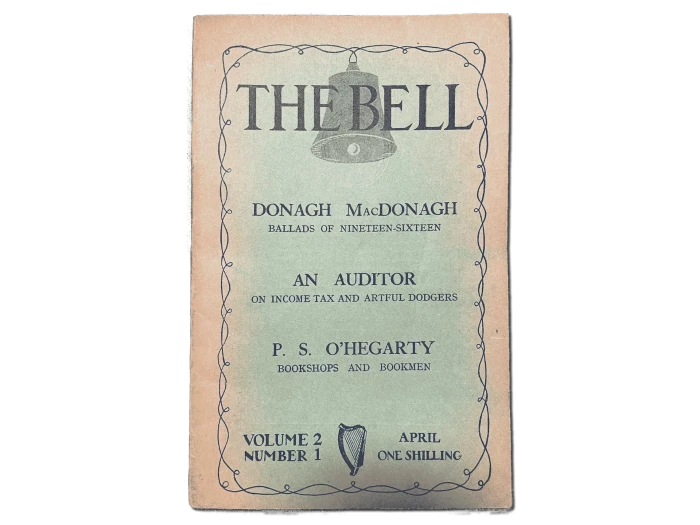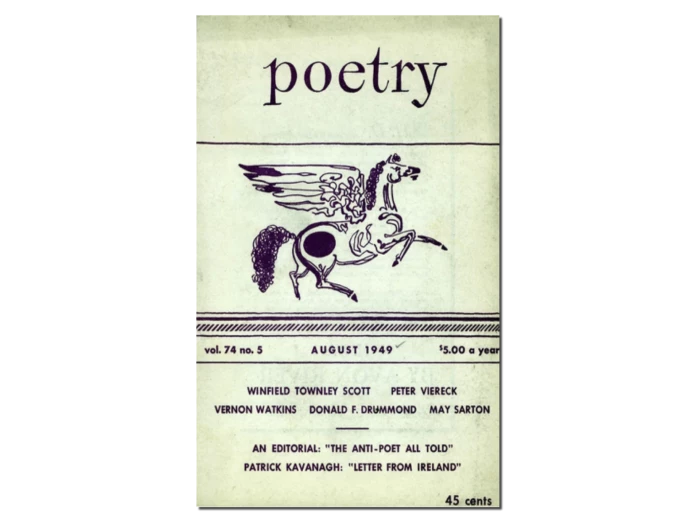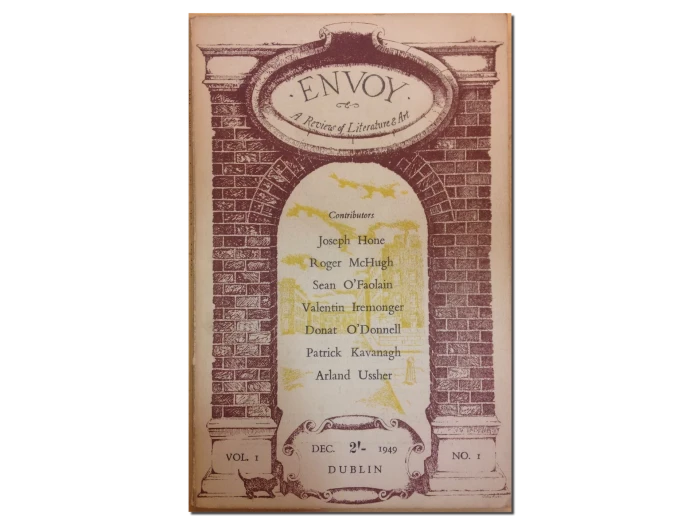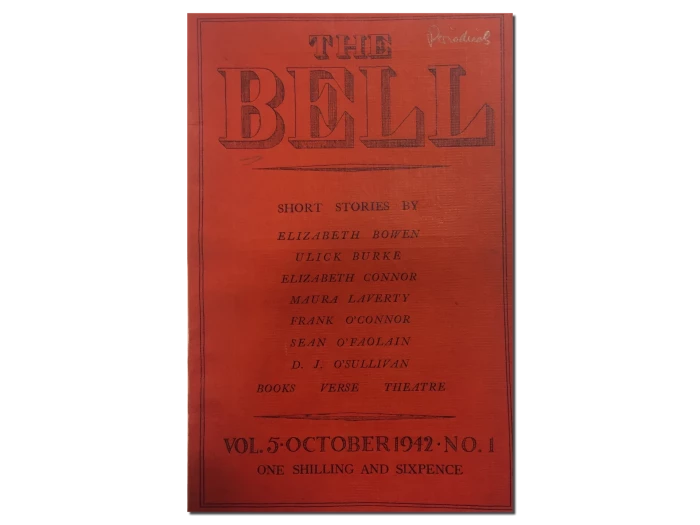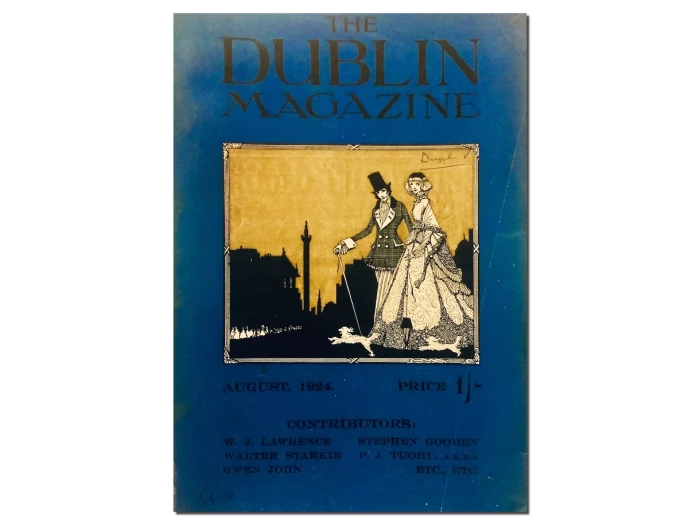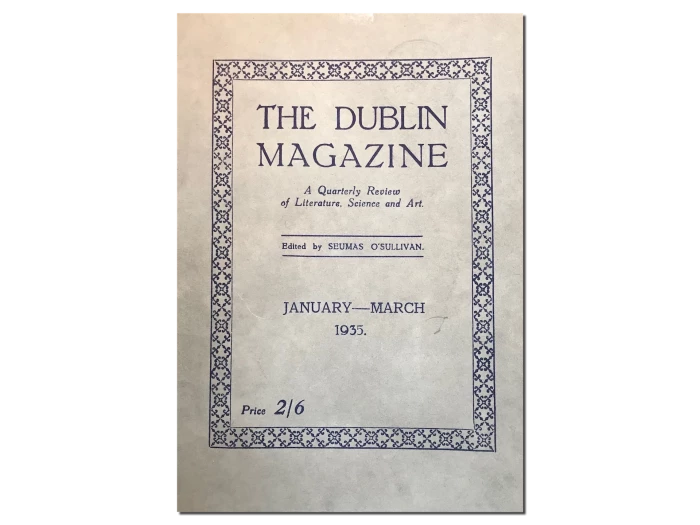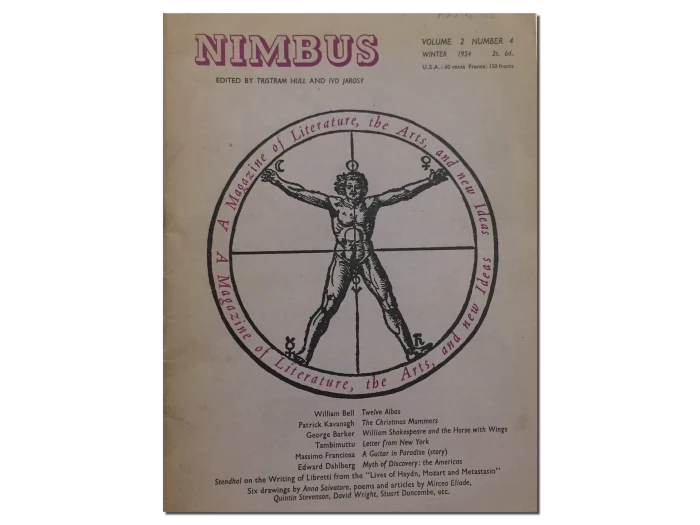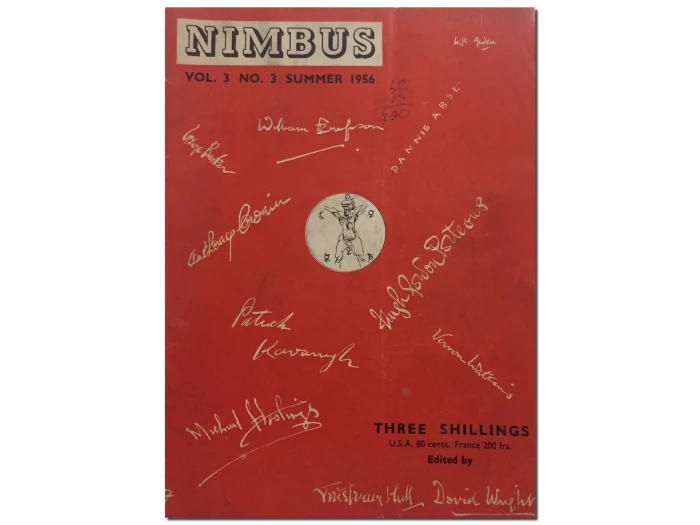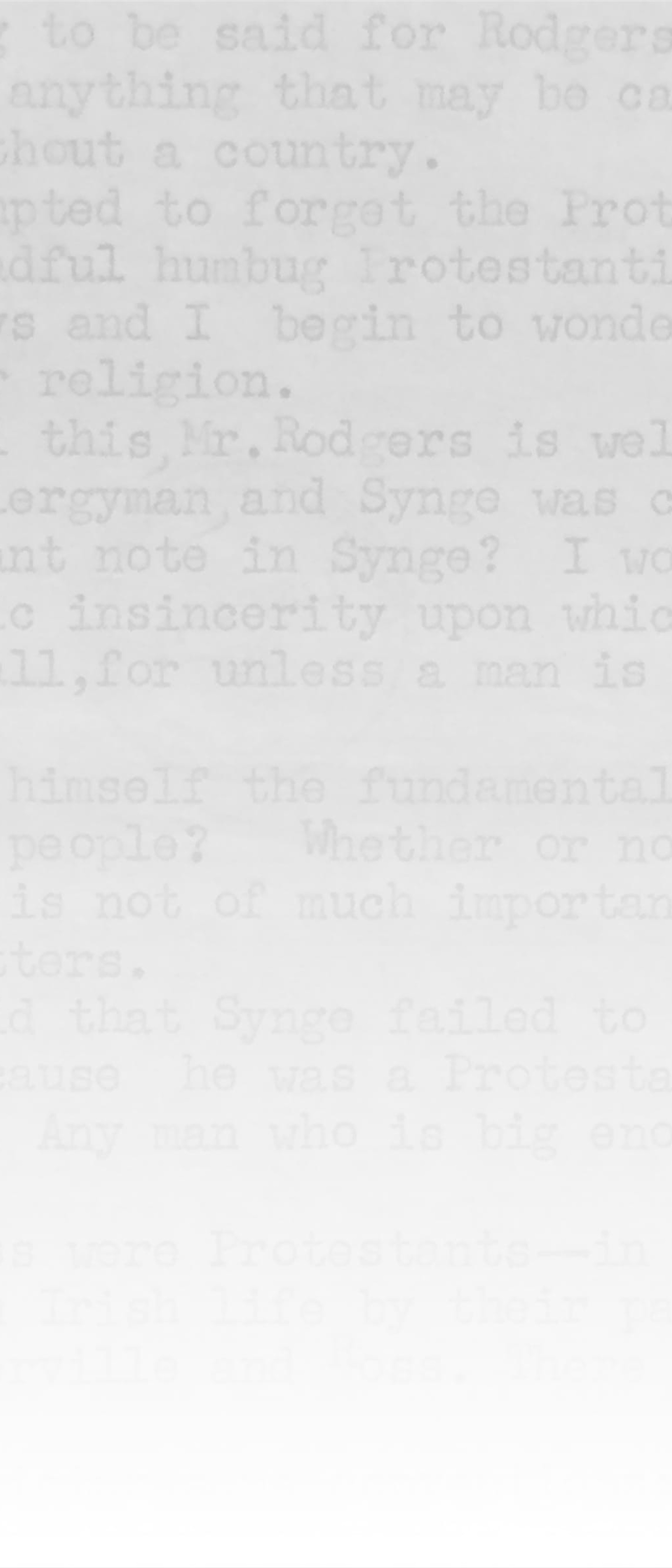 The making of a magazine
The Birth of Kavanagh's Weekly
In March 1952, in a run-down terrace flat at no. 62 Pembroke Road, Patrick Kavanagh decided to start a magazine. Frustrated at the lack of literary outlets in the city, Kavanagh set upon the plan of self-publishing his own magazine with his younger brother Peter. With only a Remington typewriter and some loose sheets of paper to hand, they began to sketch out the ideas that would form the first issue of Kavanagh's Weekly. 
Launched a month later on the 12th of April, Kavanagh's Weekly ran for thirteen weekly issues into the summer of 1952. With its striking broadsheet-style format, this self-styled 'Journal of Literature and Politics' immediately became notorious for its weekly assaults on Irish social and cultural life, but the magazine also provided an expressive platform for some of Kavanagh's most enduring literary preoccupations.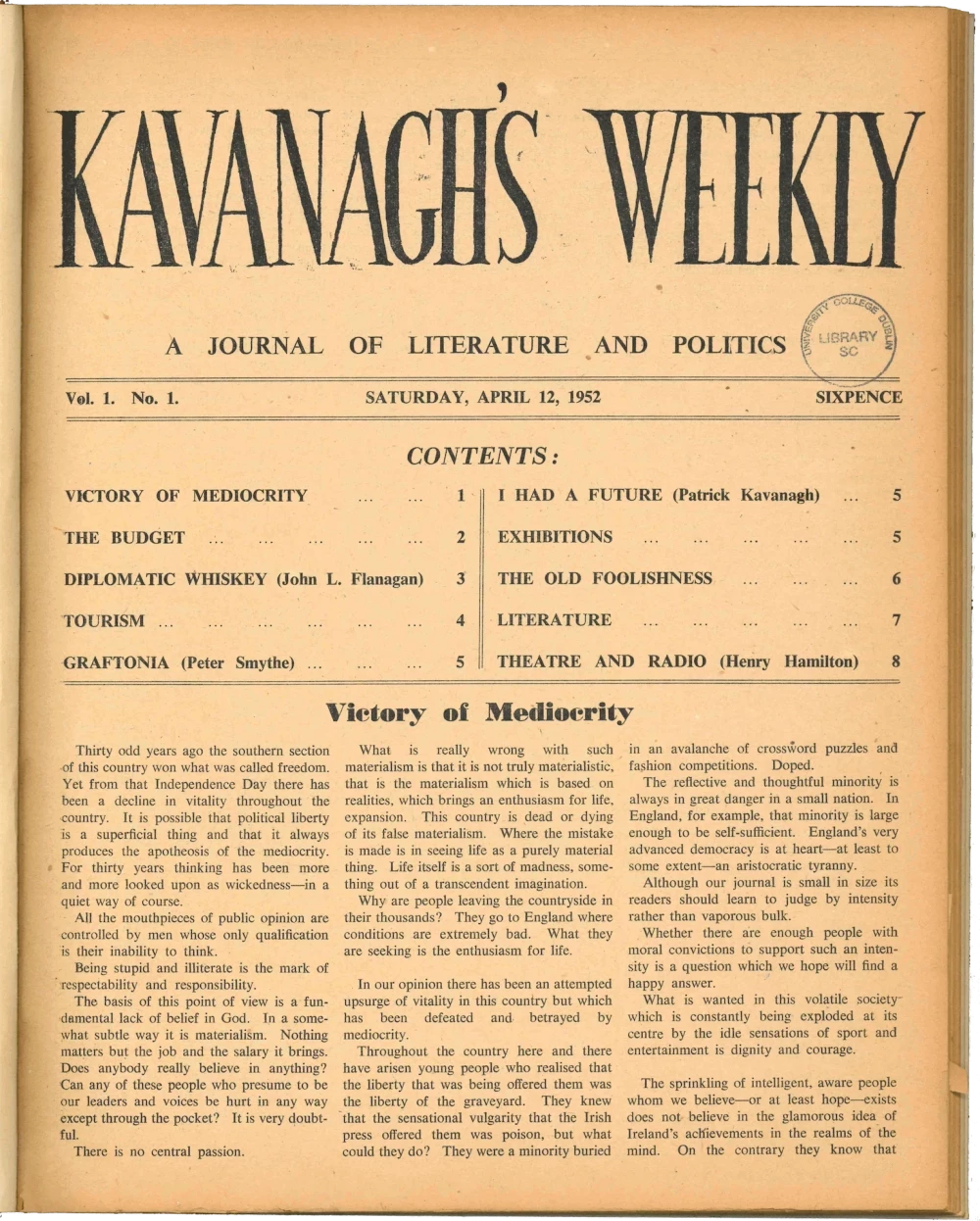 A short-lived affair
The UCD Kavanagh Archive gives a unique insight into the making of Kavanagh's Weekly. Early mock-ups show the basic masthead and cover layout sketched in pencil. Kavanagh's Weekly is an example of the classic characteristics of the literary magazine.
Produced independently, quickly and at minimal cost, magazines are small ventures that make a big cultural impact, publishing new writing and ideas that challenge the reader. Kavanagh's Weekly was ultimately a short-lived affair, dependent on Peter Kavanagh's personal investment of £800, and the magazine was forced to close with its thirteenth issue when the brothers ran out of money.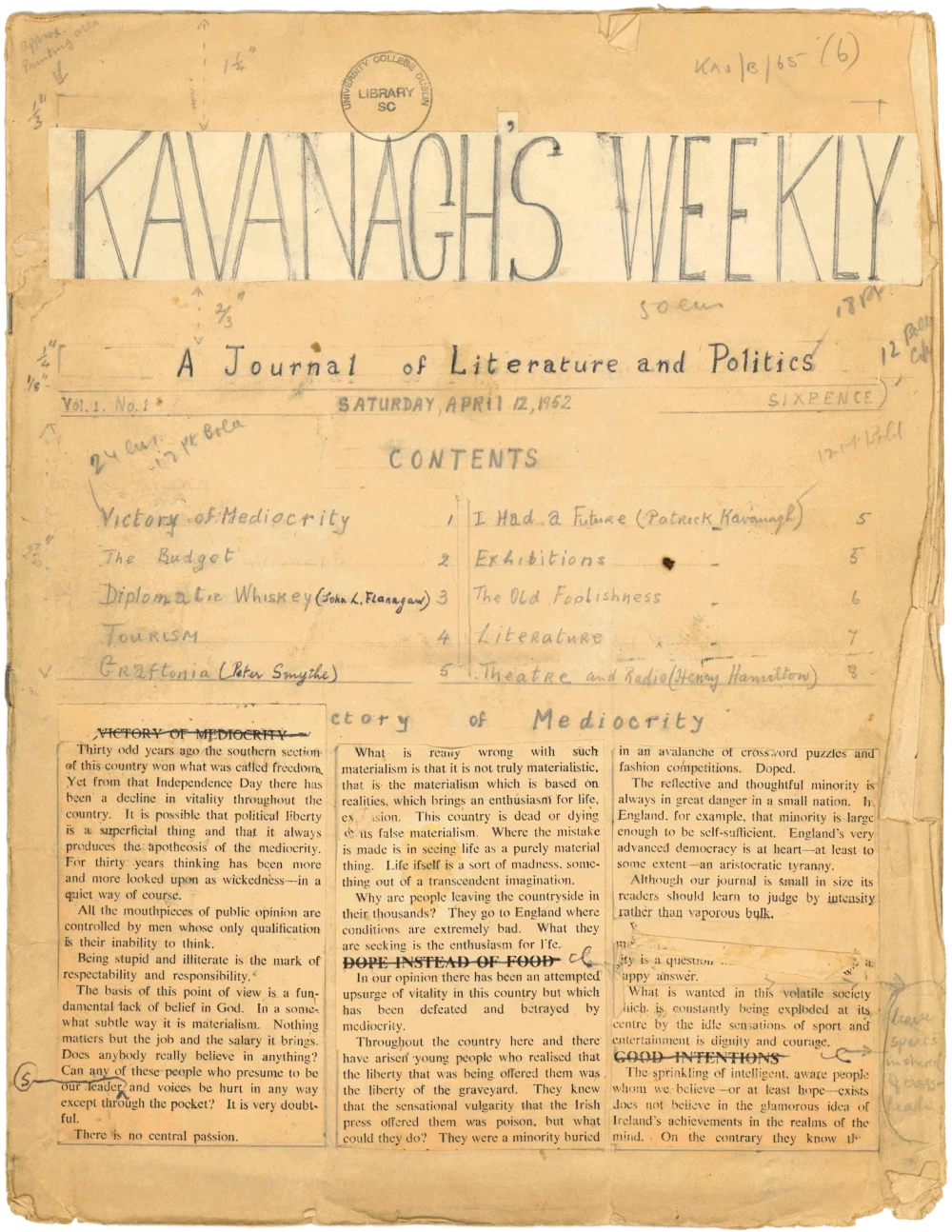 Burning the unsold copies
Kavanagh lived at no. 62 Pembroke Road during the period of Kavanagh's Weekly and for much of his time in Dublin. He worked furiously with his brother Peter on the magazine to ensure its publication each week, surrounded by loose sheets of draft pages, typescripts, and magazine issues stacked against the walls.
When they finally decided to end Kavanagh's Weekly, the brothers were left with the many unsold issues of the magazine returned from booksellers. They were forced to burn all but one hundred copies of the last issue in the old marble fireplace, with nearby residents watching the smoke billowing out from the chimney for days.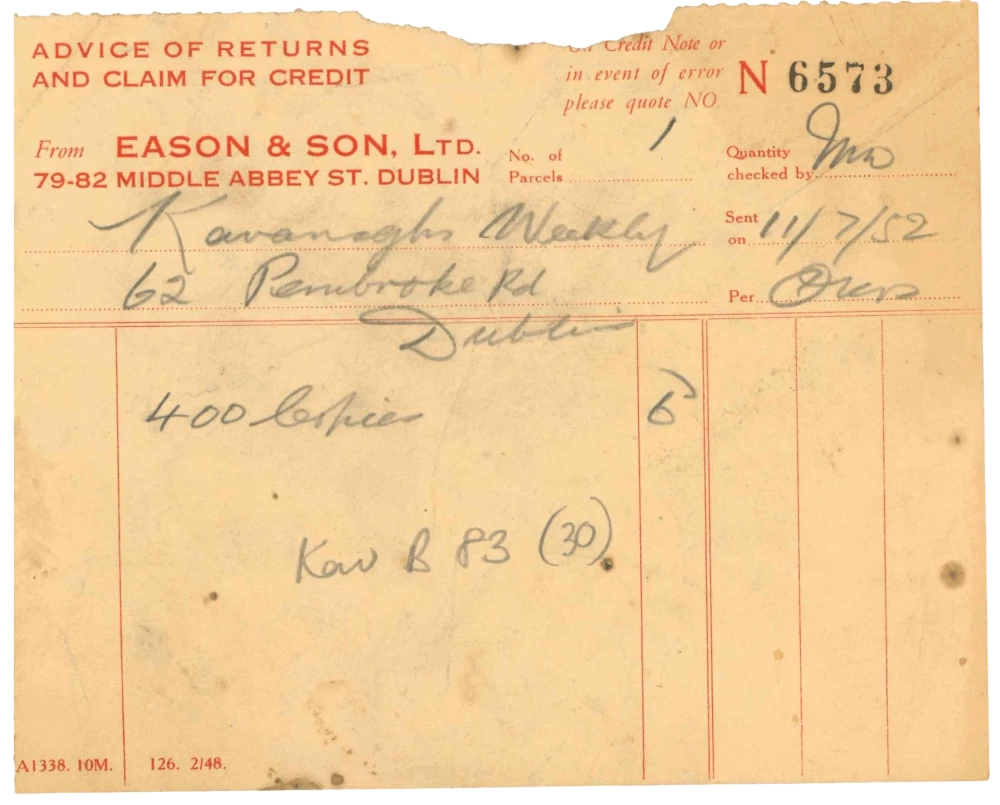 Parochialism and provincialism
Running for only thirteen weekly issues, Kavanagh's Weekly nonetheless provided an important platform for Kavanagh's ideas on literature and art. In his editorial on the 24 May, he proclaimed his now famous distinction between the parochial and the provincial mentality: 
"Parochialism and provincialism are direct opposites. The provincial has no mind of his own: he does not trust what his eyes see until he has heard what the metropolis — towards which his eyes are turned — has to say on any subject […] The parochial mentality on the other hand is never in any doubt about the social and artistic validity of his parish." 
This concept was developed further in June with his provocative critique of John Millington Synge and the representation of Irishness in the essay 'Paris in Aran'. The UCD Kavanagh Archive holds the early typescript drafts of this essay.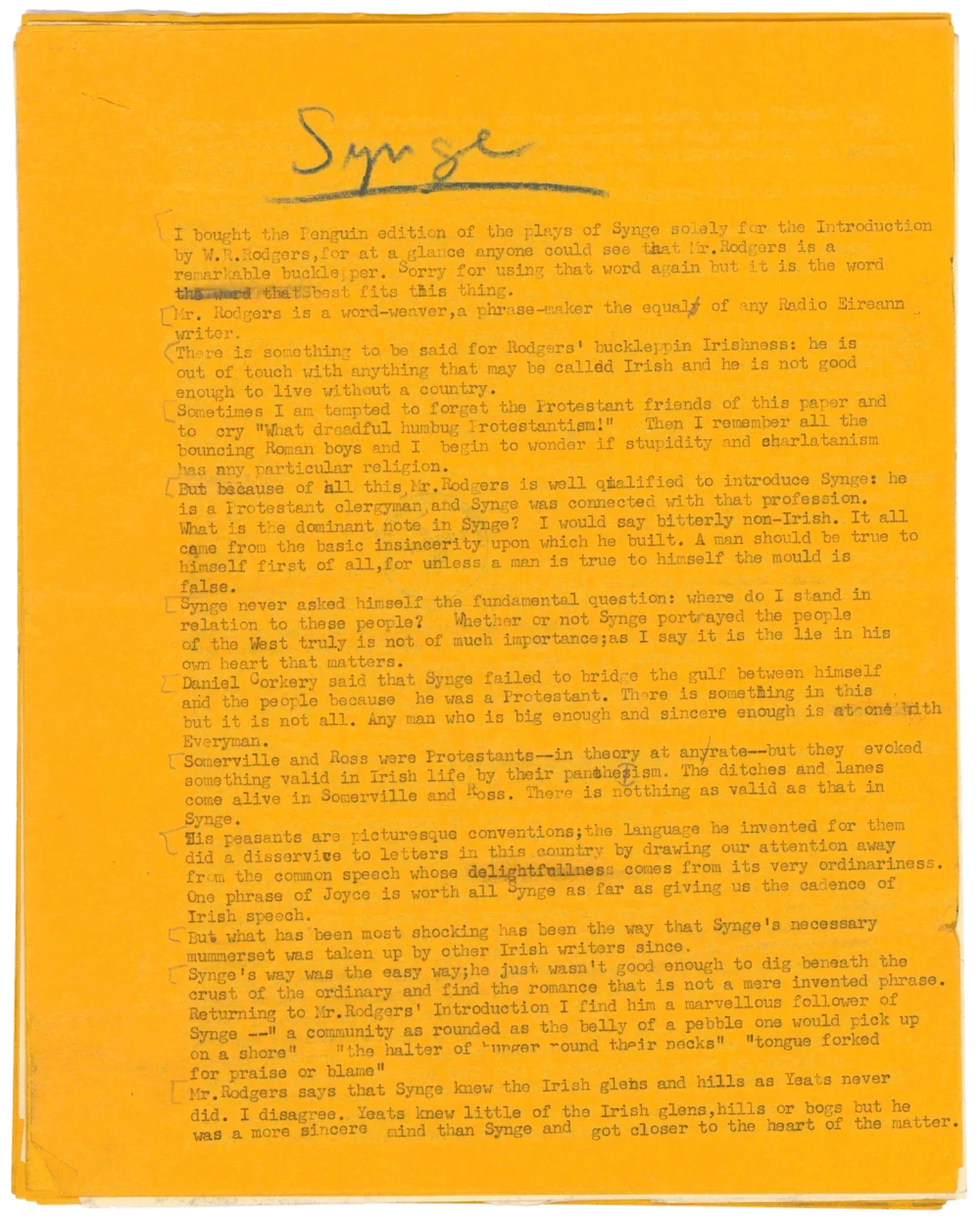 Paris in Aran
'There is one other item which will for some time to come keep the Irish act a living performance: as long as we remain provincial with London our metropolis there will always be a market for bogus Irishness. For the metropolis has never anything but contempt for its subservient provinces. The metropolis is not interested in the imaginative reality of provincial society: it only asks the provincial to perform.' ('Paris in Aran', Kavanagh's Weekly, 7 June 1952)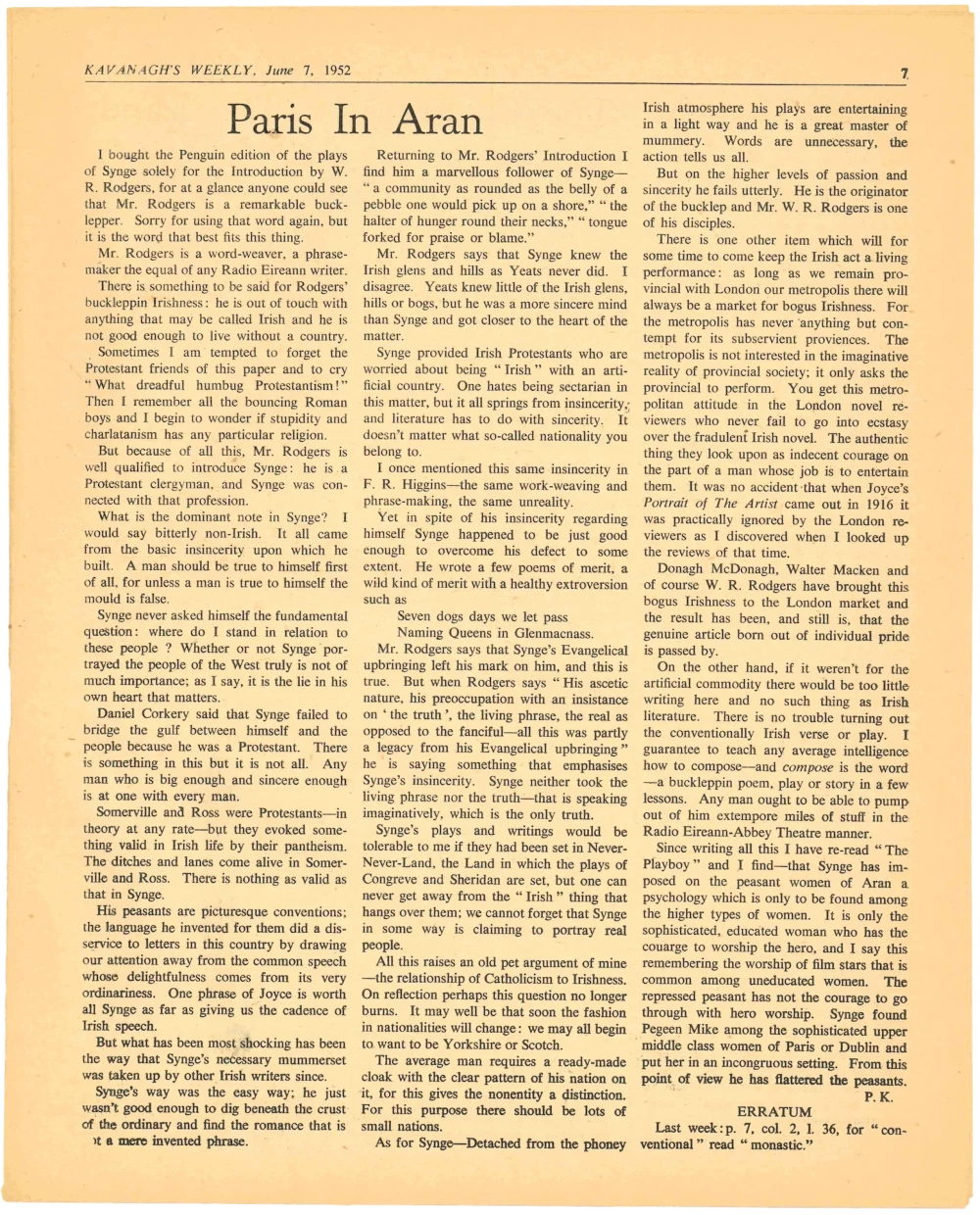 Why magazines matter
Literary magazines continue to play a key role in supporting writing and art in Ireland. We invited four contemporary magazine editors to reflect on setting up their own magazines. In this discussion you hear Dr Conor Linnie speaking with Declan Meade (The Stinging Fly), Rebecca O'Connor (The Moth), Susan Tomaselli (gorse), and Liam Harrison and Catherine Hearne (Tolka) about why magazines matter.
Audio
Editors in conversation "

It hit the town last Saturday like a blast from a sawn-off shotgun … as a bulletin of abuse and mockery … its aim appears to be to annoy as many people as possible...."
– Dublin Evening Mail, April 1952
Inside the UCD Special Collections
UCD Special Collections contain a rich variety of book, archival and manuscript collections spanning four centuries of Irish history and culture, and encompassing such diverse subjects as literature, Gaelic language and folklore, music, genealogy and political history. This includes the libraries inherited from UCD's antecedent institutions, the Catholic University of Ireland and the Royal College of Science for Ireland. 
The collection also contains named collections such as the Curran Laird collection, the libraries of Thomas Kinsella, Austin Clarke and Dennis O'Driscoll, the Franciscan Collection of Early Printed books as well as the archival collections of hugely significant Irish literary figures of the 20th and 21st centuries including Mary Lavin, Frank McGuinness, Maeve Binchy and Patrick Kavanagh. Learn more about UCD Special Collections here.
The Kavanagh Archive was assembled by Patrick Kavanagh's brother Peter and purchased from Peter for UCD Library Special Collections through a national fundraising project in 1986. The collection is vast, comprising c. 50 boxes of material including Kavanagh's published poetry, novels, prose writing and periodicals; early versions of his works in handwritten and typescript drafts, and galley page proofs; correspondence with family, friends and the literary world; and an array of printed material including press cuttings, publications, personal memorabilia, photographs, and tape recordings.
Expore the videos to see inside the archive, presented by Evelyn Flanagan, Head of UCD Special Collections.
An Introduction to the UCD Special Collections
What's in a writer's archive?
How is the material stored?
Arrival of the Kavanagh collection "

A man should avoid the daily press; it falsifies his values."
– Patrick Kavanagh, Kavanagh's Weekly, 28 June 1952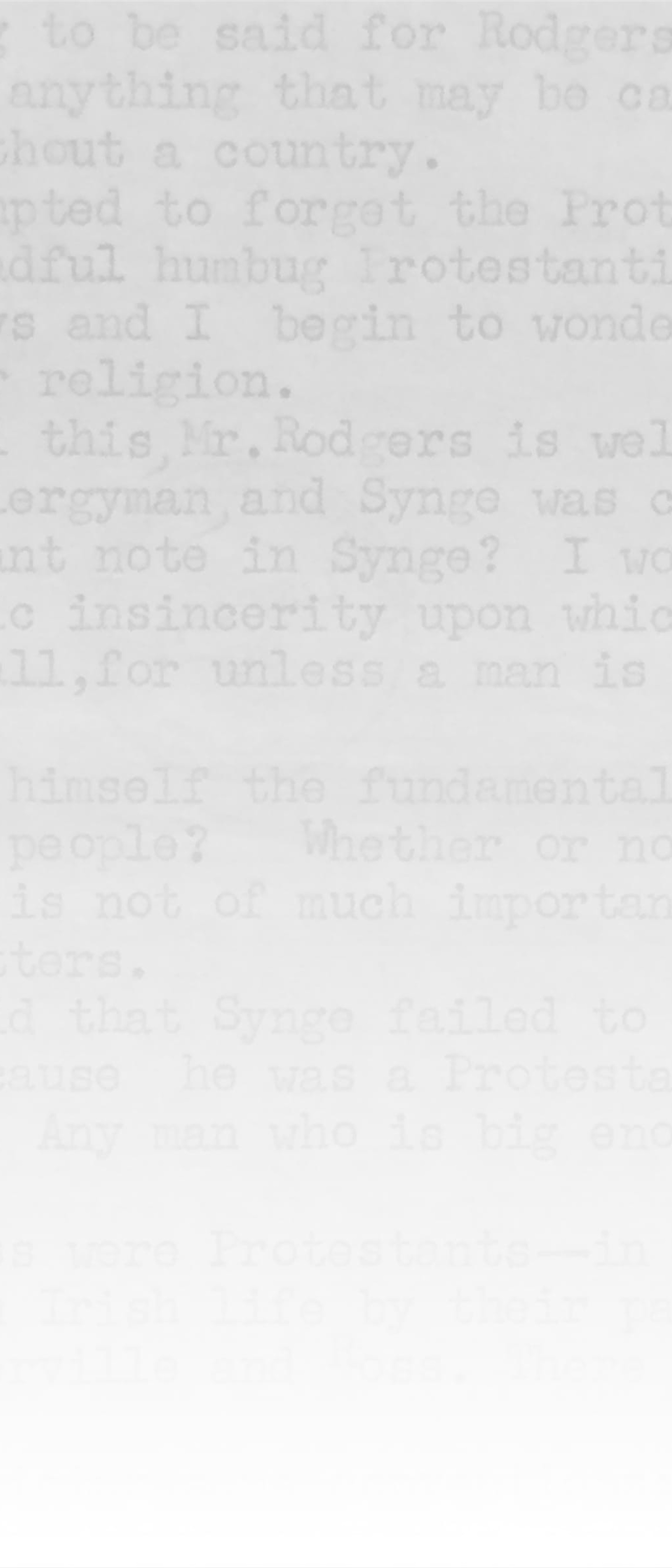 A network of journals
The Dublin Magazine and The Bell (1930s-1940s)
Magazines connect writers with editors and help to establish a first readership for their work. Edited by Seumus O'Sullivan, The Dublin Magazine provided a crucial early platform for Kavanagh's poetry. A quarterly review of literature, science and art, running from the 1920s through various incarnations up to the 1960s, The Dublin Magazine's iconic original cover design by Harry Clarke established its cultural prestige among mid-twentieth century Irish periodicals.
Though the quality production standards of the magazine's first issues could not be sustained into the 1930s due to rising production costs, The Dublin Magazine nonetheless maintained its position as a respected publishing outlet for a range of Irish writers including Samuel Beckett, Blanaid Salkeld, Austin Clarke and Padraic Colum.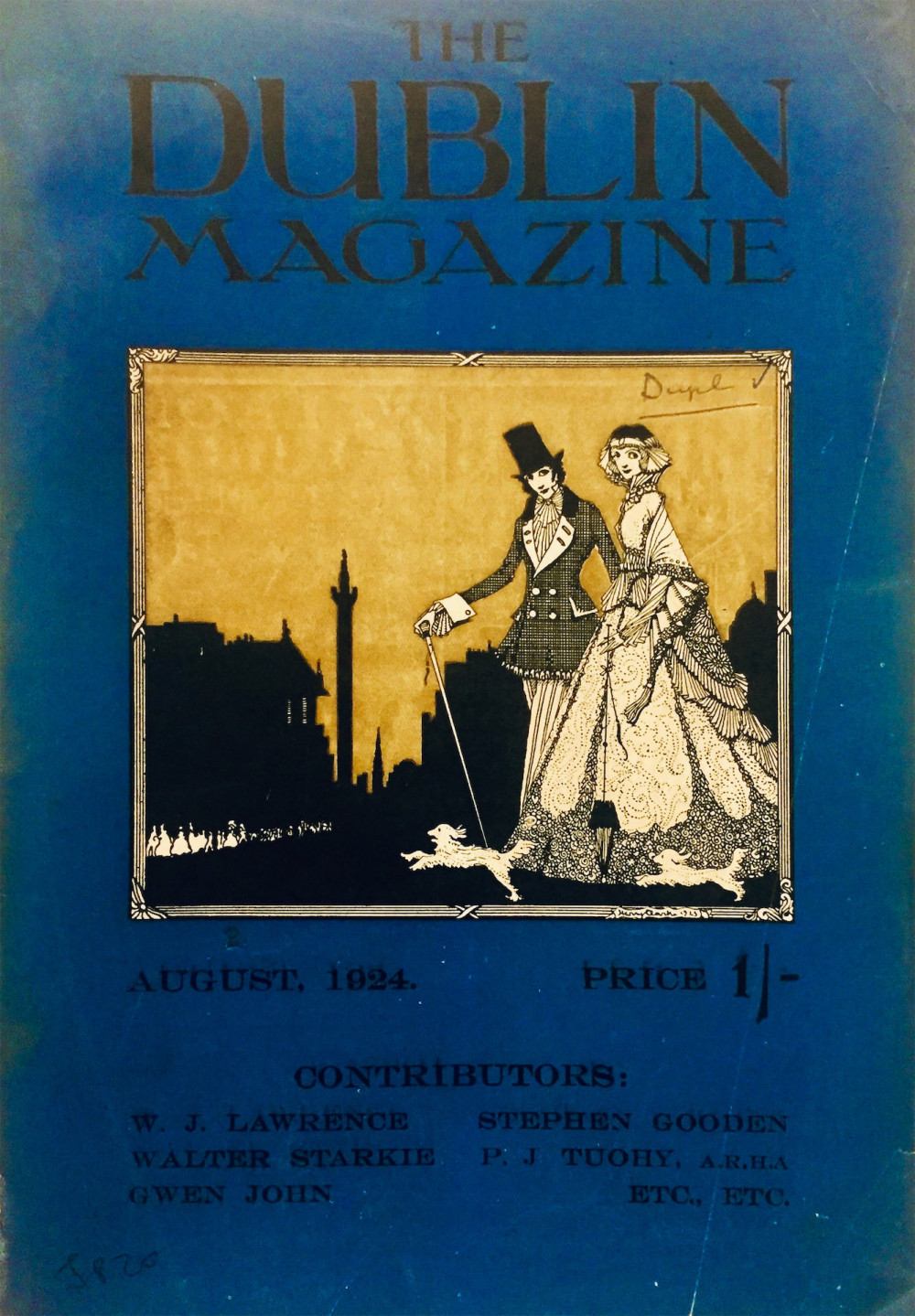 Letters to Celia
Kavanagh's excitement at seeing his early poems published in The Dublin Magazine are reflected in his letters to his sister Celia during this time. 
'I'll send you a copy of the Dublin Magazine when I get it — in January — there are a few poems of mine in it and by all opinions my best so far.... Speak simply and don't treat your accent — if you have one — with contempt. An accent is the most charming most individual thing. Literary English is a dry stick. Give me for ever the lovely localisms the quaint sounds that are real poetry.' 
Patrick Kavanagh to Celia Kavanagh, 18 December 1934.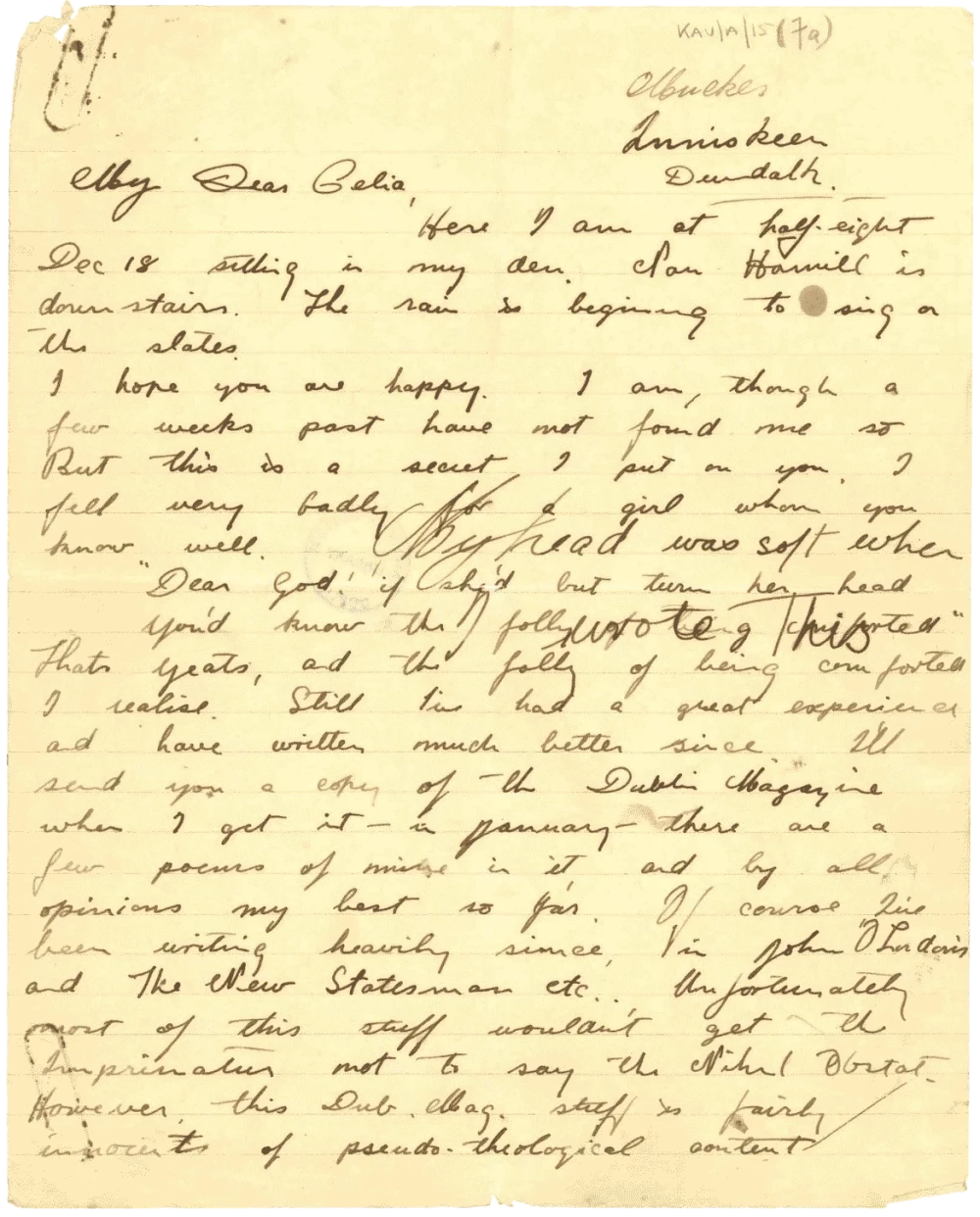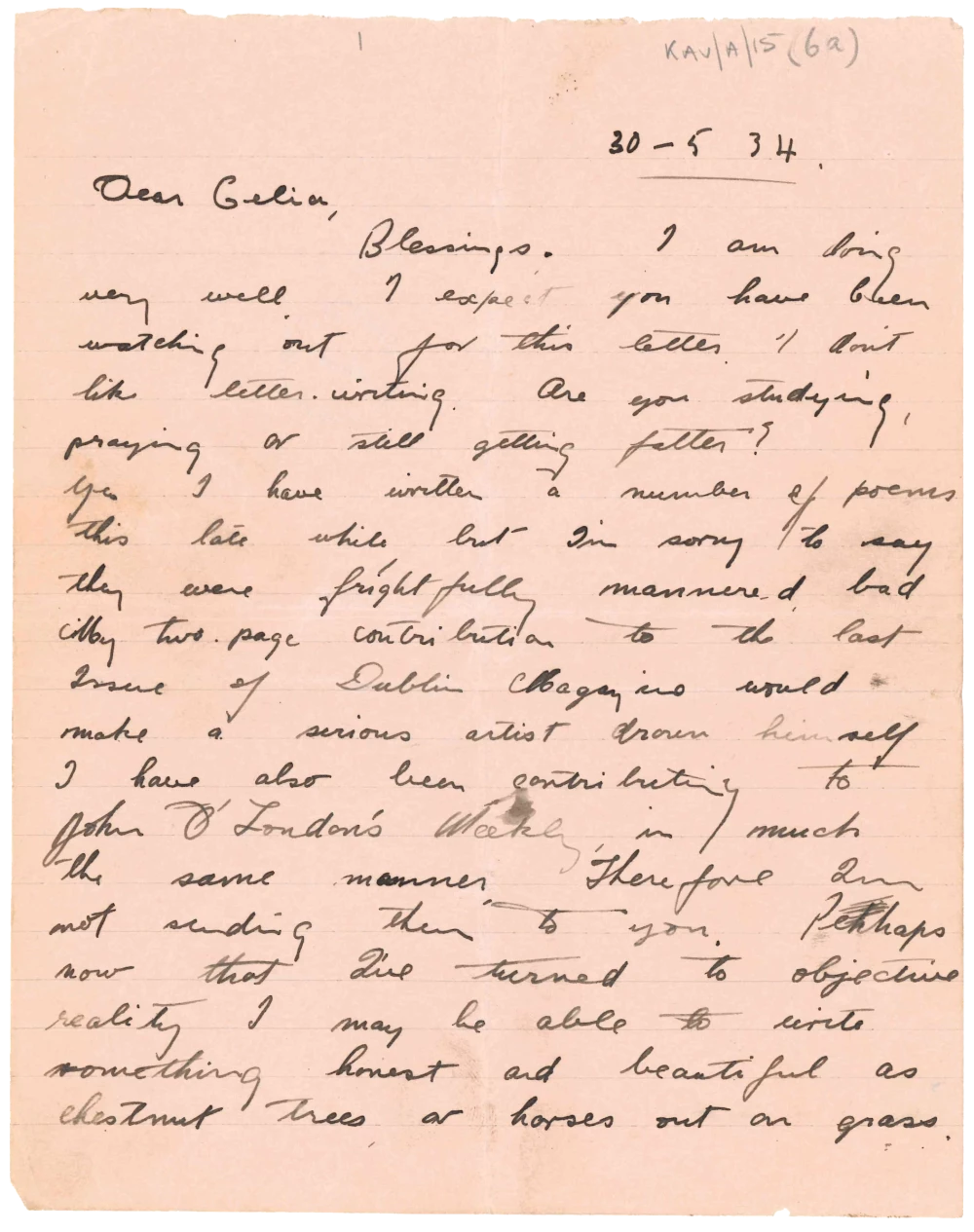 Who owns them hungry hills
Eiléan Ní Chuilleanáin reads the poem 'Shancoduff', which was first published in The Dublin Magazine in 1937.
Cultivation of a persona
'All our symbols have to be created afresh, and the only way to create a living symbol is to take a naked thing and clothe it with new life, new association, new meaning, with all the vigour of the life we live in the Here and Now.'
– Seán O'Faoláin, The Bell, October 1940
Magazines support new writing and establish a literary identity to which new writers aspire. Editors play a vital role as promoters and influencers of the writing published in their magazines. Kavanagh moved to Dublin in 1939, where the early success of his rural-themed poetry encouraged his cultivation of a peasant persona for an urban readership. But with the launch of The Bell magazine in October 1940, he began to reflect more seriously on his rural experience and how it should be represented in verse.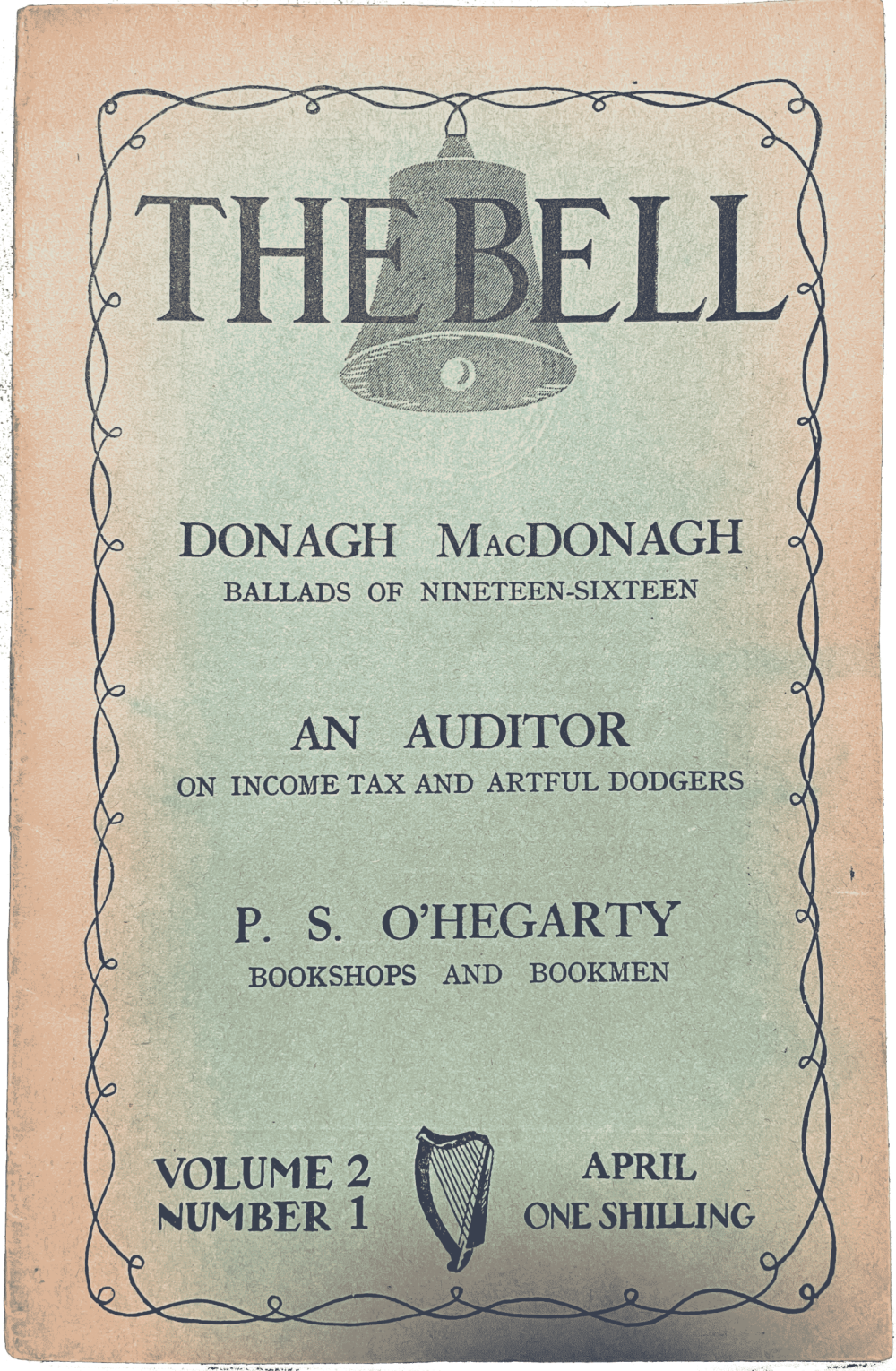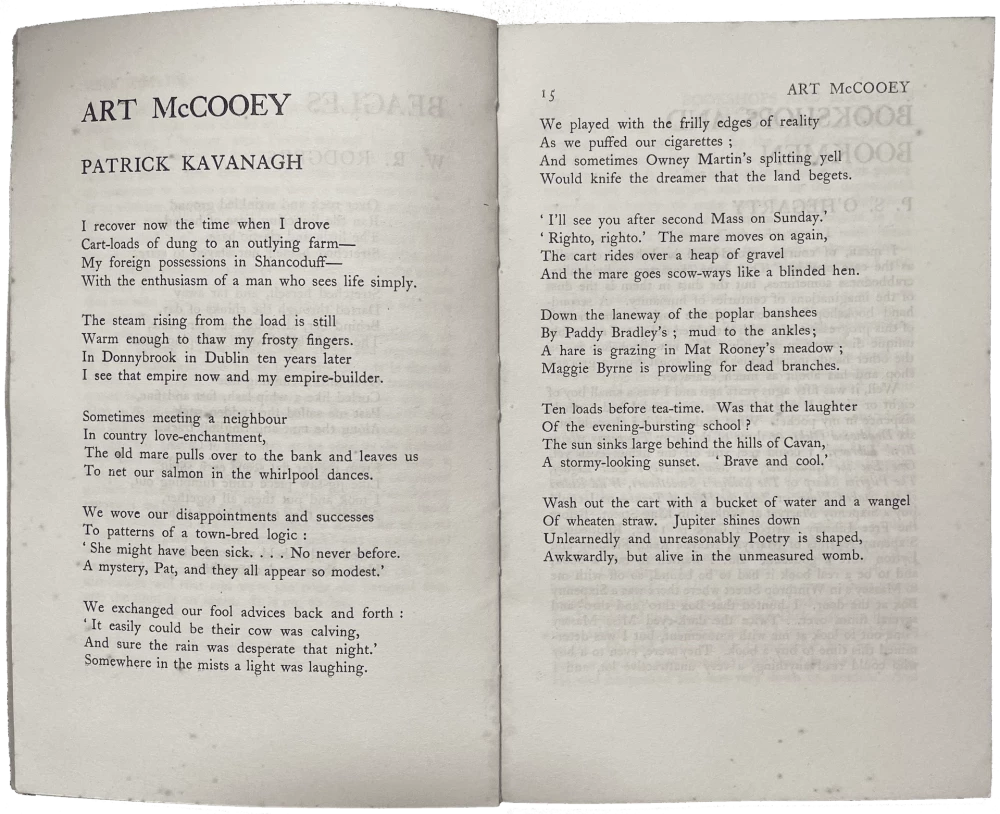 Clay is the word
Editors Seán O'Faoláin and Frank O'Connor were key to Kavanagh's poetic development. O'Faoláin founded The Bell magazine with the ambition to represent the realities of Irish life. The magazine promoted a documentary realist aesthetic that determined the direction of Kavanagh's poetry in the early 1940s and influenced the creation of his one of his most important works, The Great Hunger, published in 1942.
'Clay is the word and clay is the flesh
Where the potato-gatherers like mechanised scarecrows move
Along the side-fall of the hill —
Maguire and his men.
If we watch them an hour is there anything we can prove
Of life as it is broken-backed over the Book
Of Death? Here crows gabble over worms and frogs
And the gulls like old newspapers are blown clear of the hedges, luckily.
Is there some light of imagination in these wet clods?
Or why do we stand here shivering?'
Excerpt from The Great Hunger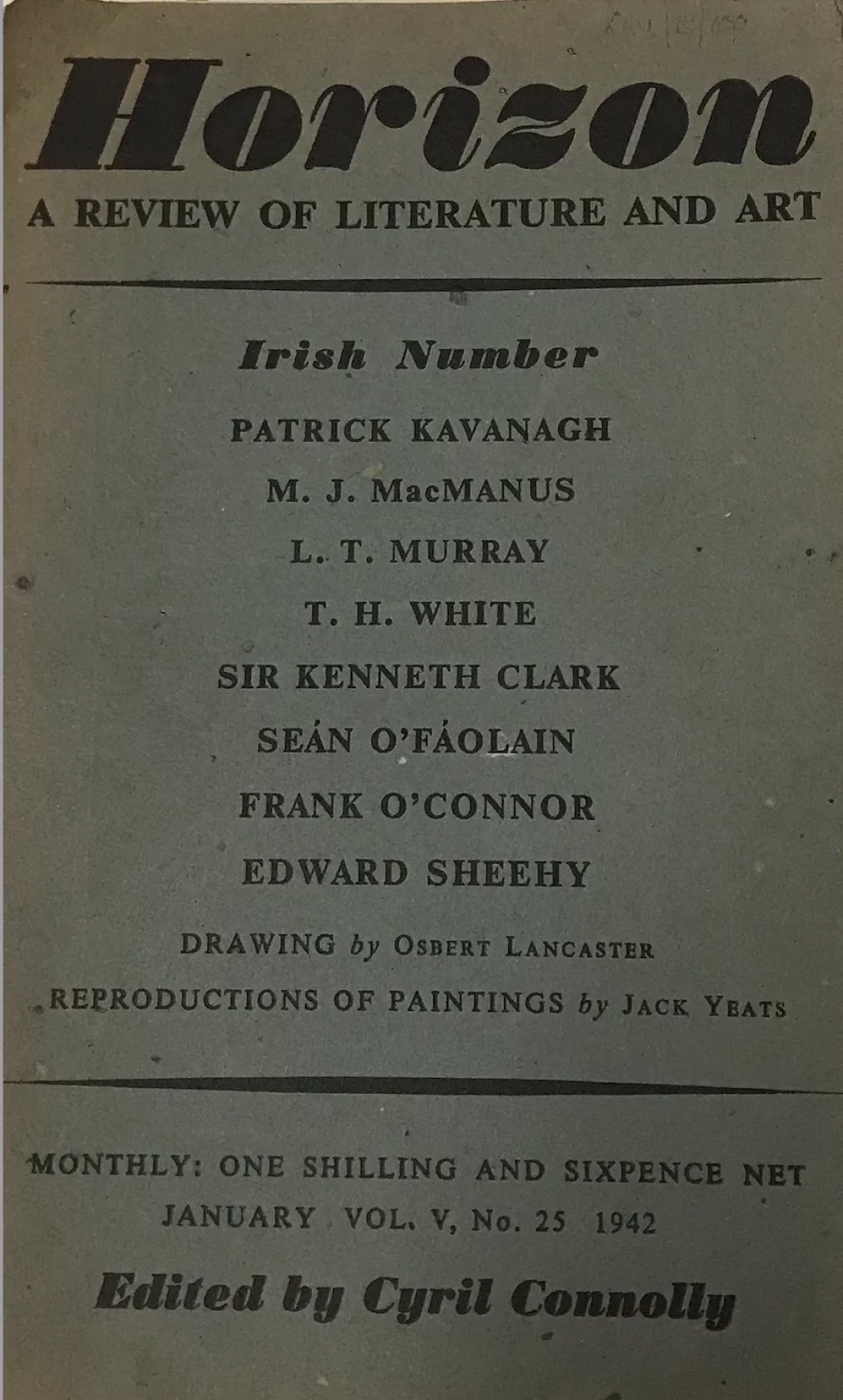 "

To have the courage of being yourself is to be truthful. You will be an iconoclast and considered a maker of wild statements but every true personality in a movement is iconoclastic."
– Patrick Kavanagh, 'Diary', Envoy: A Review of Literature & Art, July 1951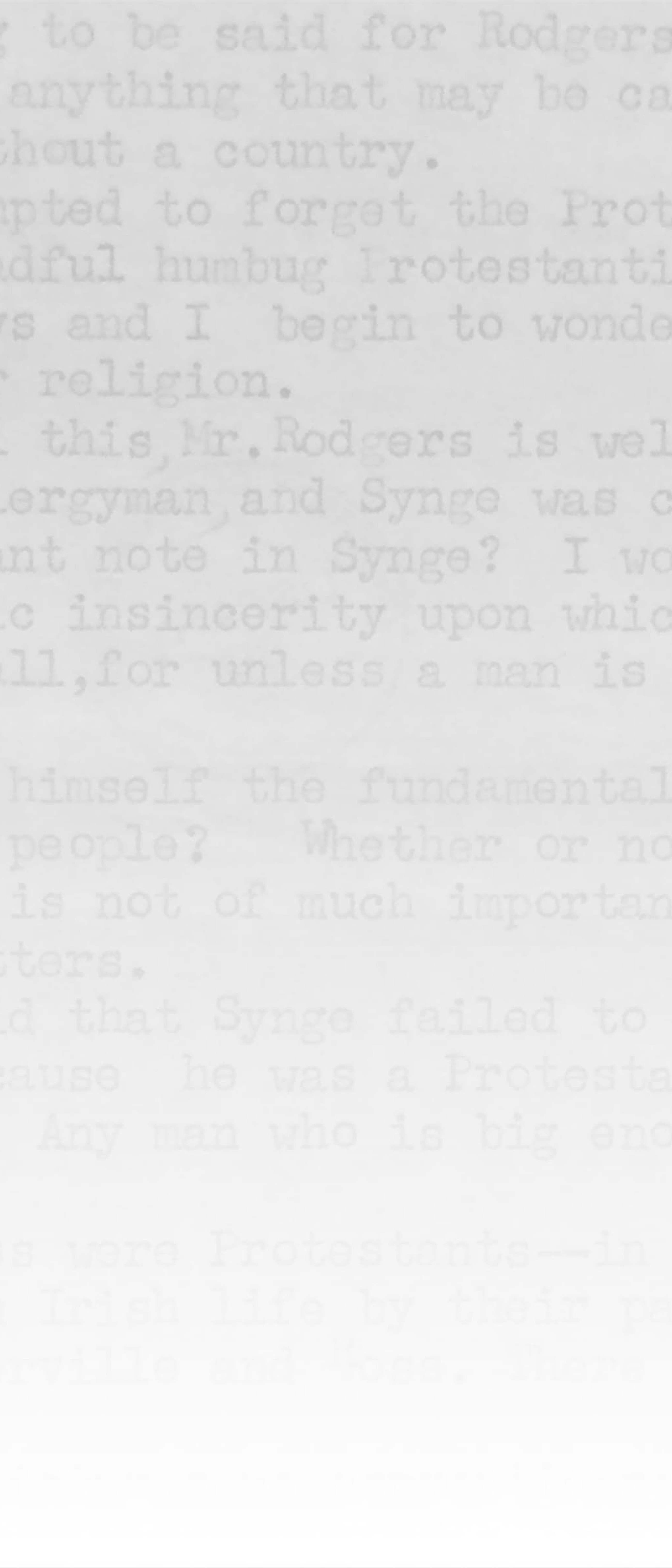 A post-war generation
Envoy and Nimbus (1950s-60s)
A magazine can give definition to a literary community through the writers and the work it publishes. During the 1950s, Kavanagh joined a lively group of young poets and artists in Dublin through the magazine Envoy: A Review of Literature & Art. Launched in December 1949 and running for twenty monthly issues, Envoy gave voice to an emergent post-war generation that aspired to open out Irish culture to the wider world.
Kavanagh contributed a monthly 'Diary' in each issue where he captured the urgent, iconoclastic spirit of his younger contemporaries, denouncing the conservative cultural nationalism that remained prevalent in mid-century Irish society.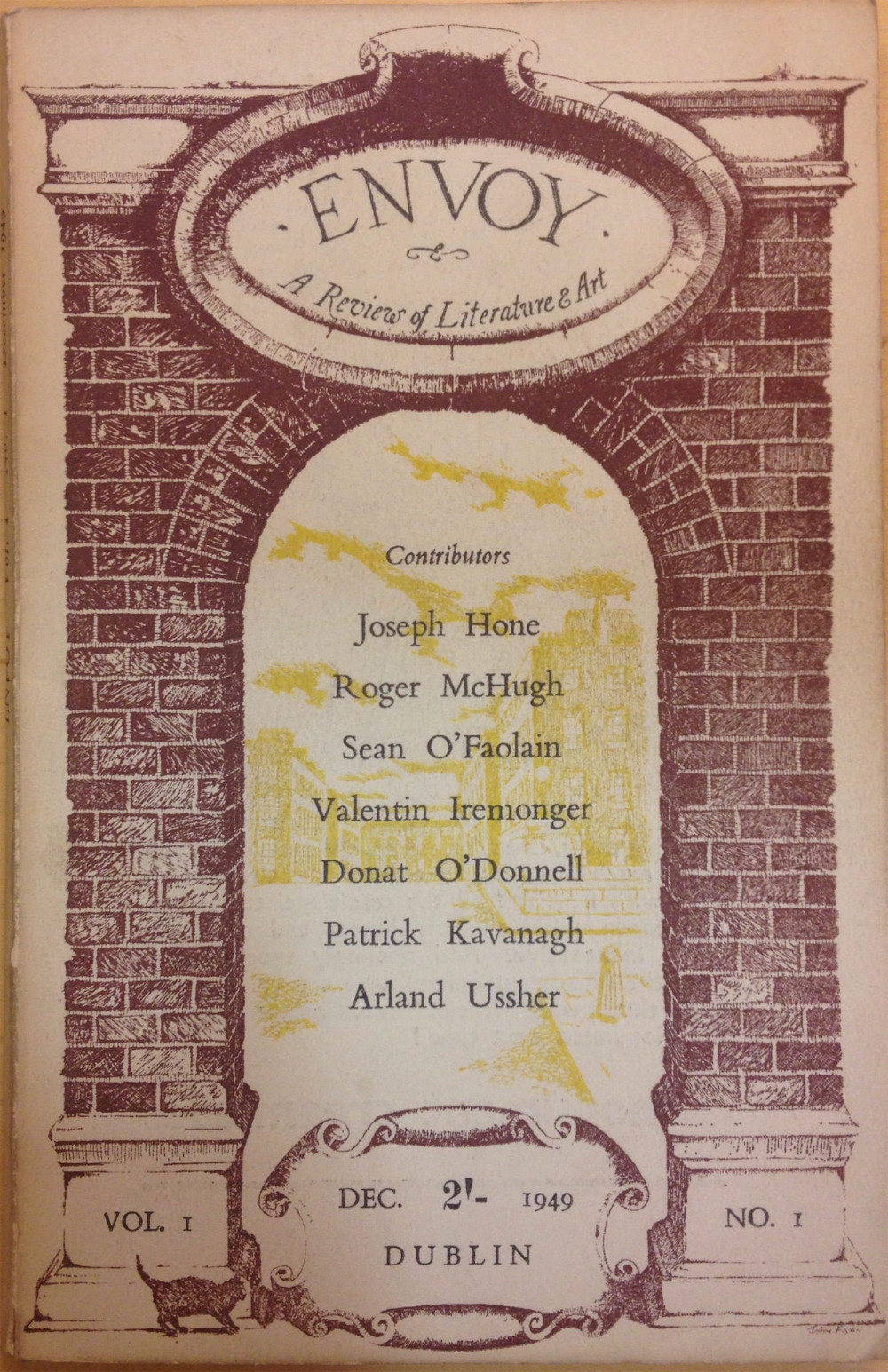 The raw material of life
In July 1951, Envoy published a landmark special issue dedicated to James Joyce, aiming to reclaim his marginalised literary status.
Recalling Joyce's protagonist Stephen Dedalus in the novel A Portrait of the Artist as a Young Man, Kavanagh wrote that 'the great poets are those who burn in the smithy of their souls the raw material of life and produce from it this erotic-creative essence.… Almost any kind of the crude material of life can be burned to give us intoxicating things'.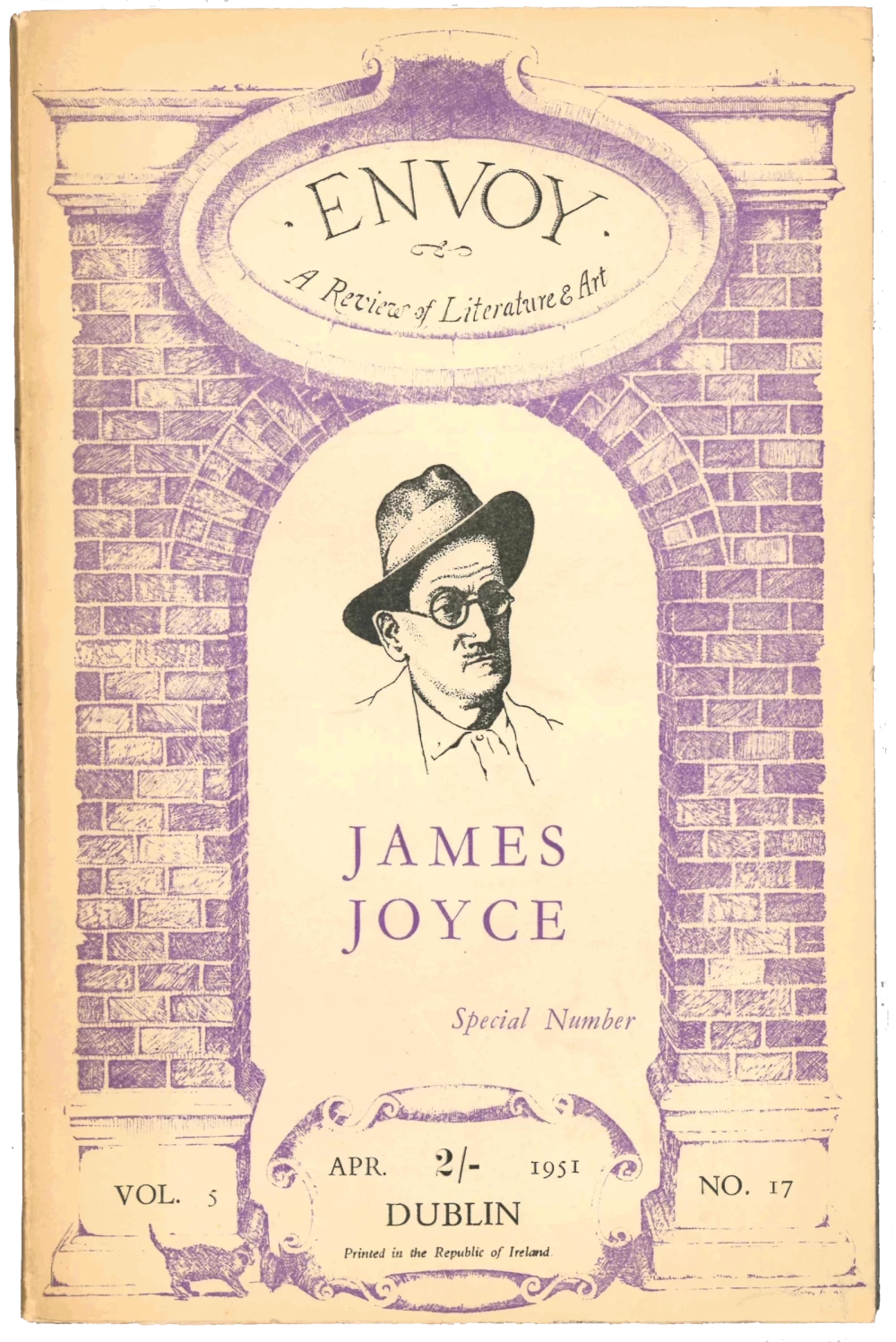 Kerr's Ass
Eiléan Ní Chuilleanáin reads 'Kerr's Ass', which was published in Envoy.
A literary mile
With its headquarters at no. 39 Grafton Street, Envoy was connected to a bustling network of literary pubs, art galleries and cafés clustered around the Grafton Street area.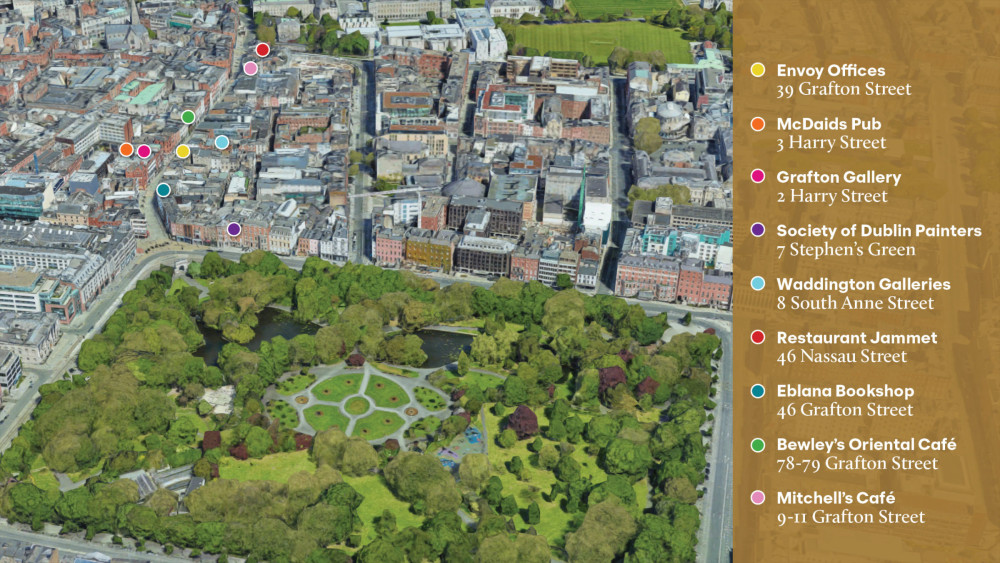 A lasting impact
The literary connections Kavanagh made during the Envoy period had an impact that extended beyond the publication of the magazine. The writers and artists he befriended during this time including Anthony Cronin and Patrick Swift were integral to his later promotion in Britain through the magazine Nimbus in the late 1950s. Nimbus featured nineteen of Kavanagh's poems in the winter 1956 issue, along with an essay appreciation by Anthony Cronin and illustrated portrait by Patrick Swift. The magazine signalled the poet's late flourishing and directly led to the publication of the volume Come Dance with Kitty Stobling and other poems in 1960.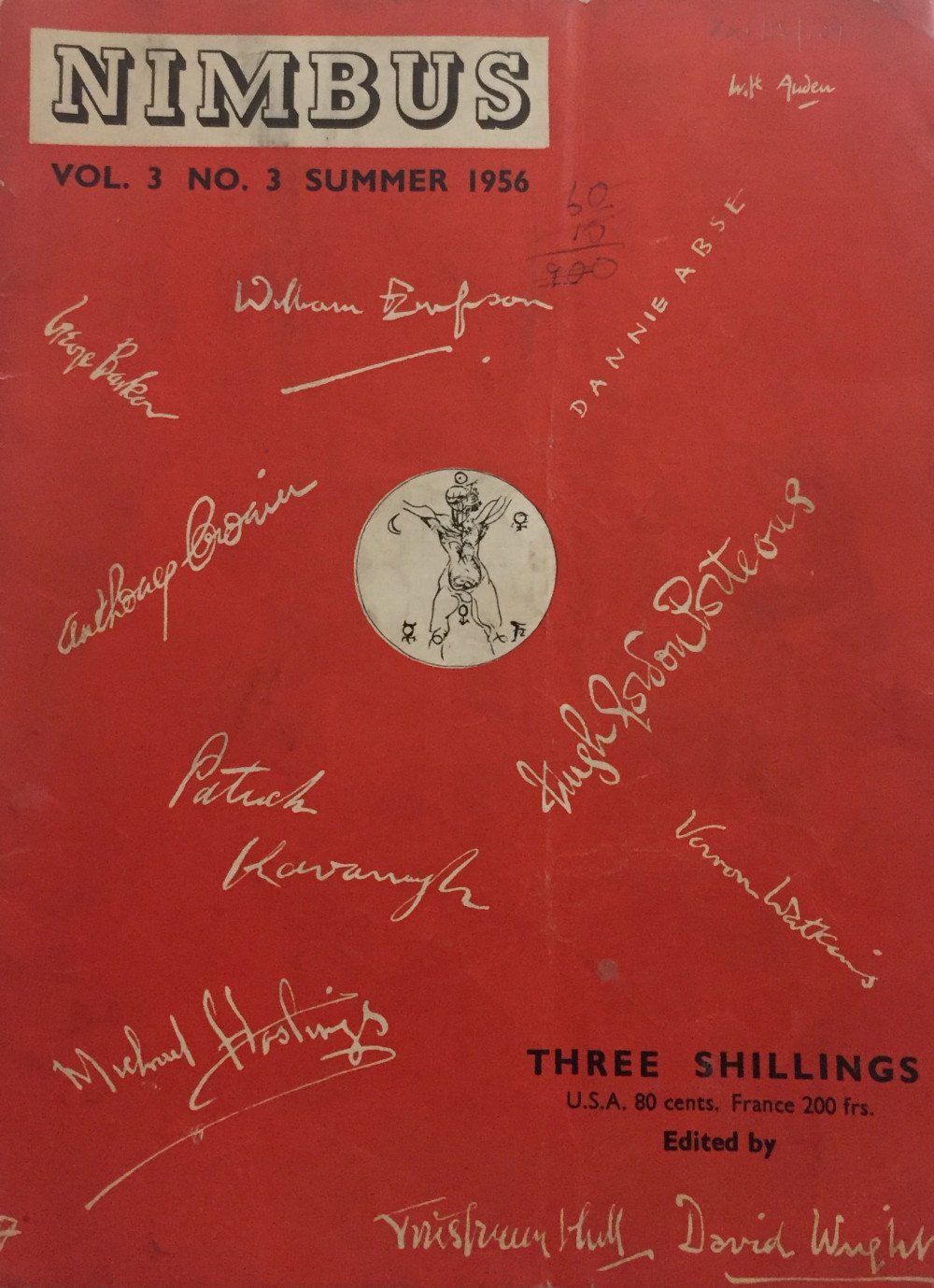 The Hospital
Eiléan Ní Chuilleanáin reads 'The Hospital', which was published in Nimbus.
Continuing a tradition
Ireland has a thriving contemporary magazine culture that continues the tradition from Kavanagh's era to the present day. From longstanding titles such as The Dublin Review, The Stinging Fly, Poetry Ireland Review and Cyphers, to more recent journals such as Tolka and Banshee, magazines continue to play a vital role in supporting new writing in Ireland. 
Magazines matter because they offer a platform for voices that might not otherwise be heard. They are the first point of contact for writers seeking publication and for readers in search of new work. Many of our most exciting and influential contemporary authors can trace their early literary careers through the magazines that first published them including Sally Rooney, Doireann Ní Gríofa, Kevin Barry, and Sara Baume.
In the audio clips, Dr Conor Linnie speaks to Rebecca O'Connor (The Moth), Susan Tomaselli (gorse), Liam Harrison and Catherine Hearn (Tolka) and Declan Meade (The Stinging Fly) about their experiences publishing literary magazines.
The aesthetics of magazines
Gallery
The contemporary magazine