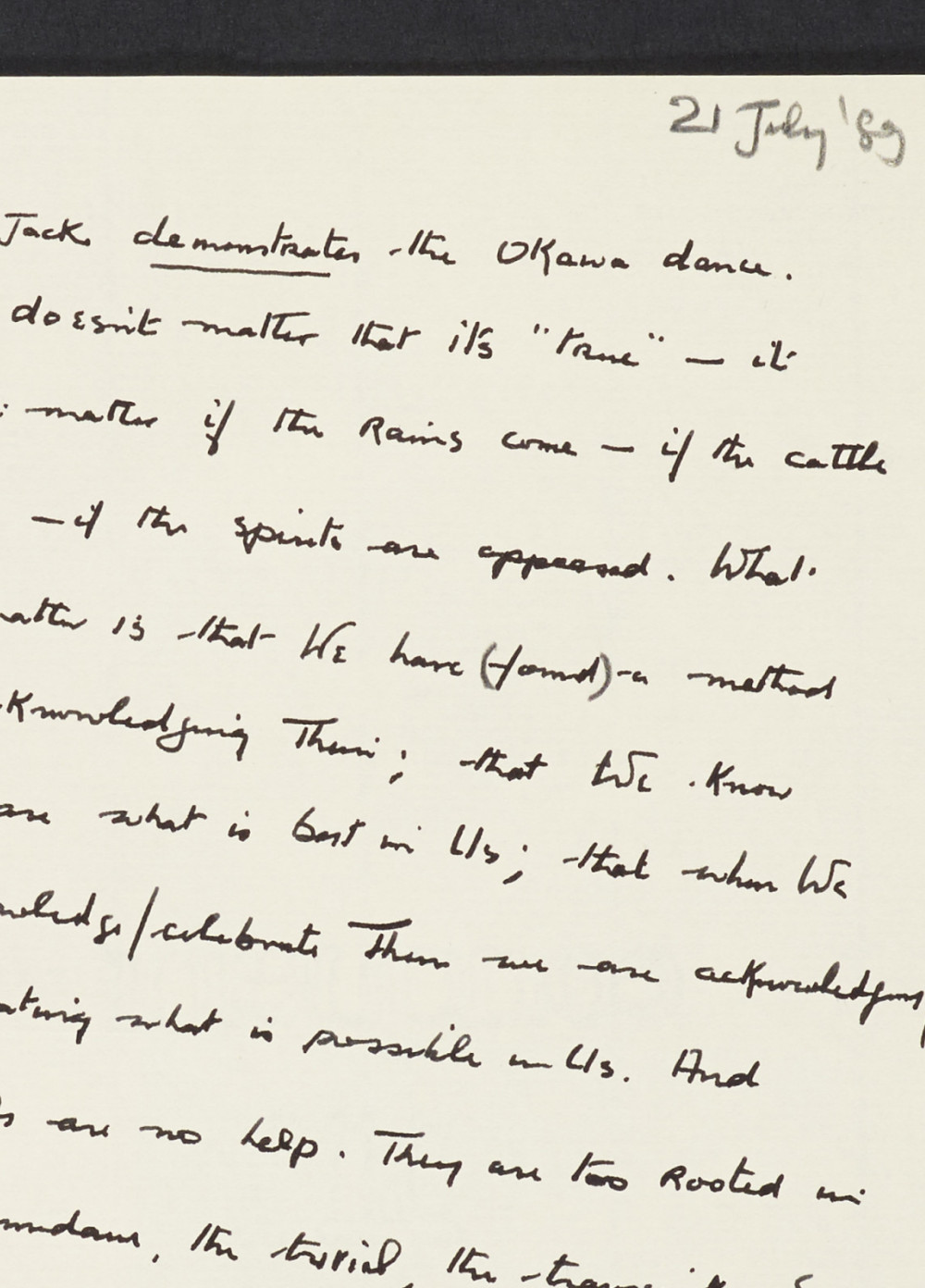 The Brian Friel Papers
It doesn't matter if the rains come
This note was written by Brian Friel during the composition process for Dancing at Lughnasa (1990). Many of Friel's notes explore the significance of the play's various dances and what it is they might be expressing. Here we can see that Friel was particularly interested in the idea that dance can say what language can't, either because language is inadequate or because language is subject to taboos. 
This note refers to a scene that does not appear in the finished play, in which Fr. Jack, the malarial priest who has been sent home from a leper colony in Uganda for his apostasy, demonstrates what appears to be a rain dance for his sisters back in Glenties. Although there is evidence that Friel did some basic research on Uganda, there is also evidence to suggest that Friel's idea of Ugandan culture and its rituals in the 1930s owes a great deal to Chinua Achebe's Things Fall Apart (1958), which depicts Igbo culture in pre-colonial Nigeria in the 1890s. The authenticity of his depiction of Ugandan cultural traditions through Fr. Jack is therefore questionable.
From MS 37,104/1, National Library of Ireland; copyright Brian Friel Estate, reproduced by permission.
Transcription
Fr. Jack demonstrates the Okawa dance. It doesn't matter that it's "true" – it doesn't matter if the rains come – if the cattle thrive – if the spirits are appeased. What does matter is that We have (found) a method of acknowledging Them; that We know They are what is best in Us; that when We acknowledge/celebrate Them we are acknowledging/celebrating what is possible in Us. And words are no help. They are too rooted in the mundane, the trivial, the transient. So we silence the tongue and let the whole body speak . . . .
But the dance is also an expression of the darkly private, the suppressed, the not-publicly-blessed, maybe even the forbidden.
Combine those 2 notions
And in the middle of the speech language again deserts him and he begins the dance ? ? ? ?
21 July: maybe Fr. Jack says something like this.
"Dancing as release and entrance to suppressed + almost forgotten truths"
– Brian Friel
"What is vaguely forbidden? What is taboo?"
– Brian Friel