Dublin Gothic
A city's haunted literary legacy
Perhaps more than any other genre, gothic literature depends on place and space to craft its characteristic atmosphere of danger and dread. The simple creak of a stairway, or the echoing of footsteps, can provoke the thrill of terror. 
Place and space are central to Ireland's gothic writing, which is frequently associated with mouldering country estates that dramatise the end of the Anglo-Irish Ascendency. This exhibition curated by Dr Katie Mishler, however, examines the contribution that Irish writers have made to a different tradition of Dublin gothic writing. The writers examined in this exhibition have unleashed phantoms, vampires, and other undead horrors into the city environment.
This exhibition has emerged from Dr Katie Mishler's Irish Research Council Postdoctoral Fellowship, Mapping Dublin Gothic: 1820-1900. Curated by Dr Katie Mishler. The exhibition was produced with the support of the Irish Research Council and the European Research Council.
Charles Maturin (1780-1824)
Charles Robert Maturin signals the transition from gothic romanticism to a form of modern gothic. He was born on 25 September 1780 in Dublin. His family were Huguenots who fled France after the revocation of the Edict of Nantes (1685). A graduate of Trinity College Dublin, Maturin was appointed to the curacy of St Peter's Church, Aungier Street in 1806.
Maturin initially turned to writing to supplement his meagre salary as a curate, although his reputation as an eccentric writer of romances prevented his promotion within the Church. He was known for his general flamboyance, extravagant dress, and love of dancing, even in daylight. 
He is best known for the Faustian gothic romance Melmoth the Wanderer (1820). He allegedly composed this novel with a communion wafer pasted to his forehead in order to signal to others that he was not to be disturbed. Maturin died from a laudanum overdose on 30 October 1824 at his house in York Street, and was buried in St Peter's Churchyard.
Video
Ghosts of Dublin: Melmoth the Wanderer
Audio
Dublin Gothic Podcast
Dr. Christina Morin and Dr. Jason McElligott join Dr Katie Mishler to discuss Charles Maturin's Melmoth the Wanderer - a hallmark of Gothic literature - and also touch on some bizarre findings in Marsh's Library.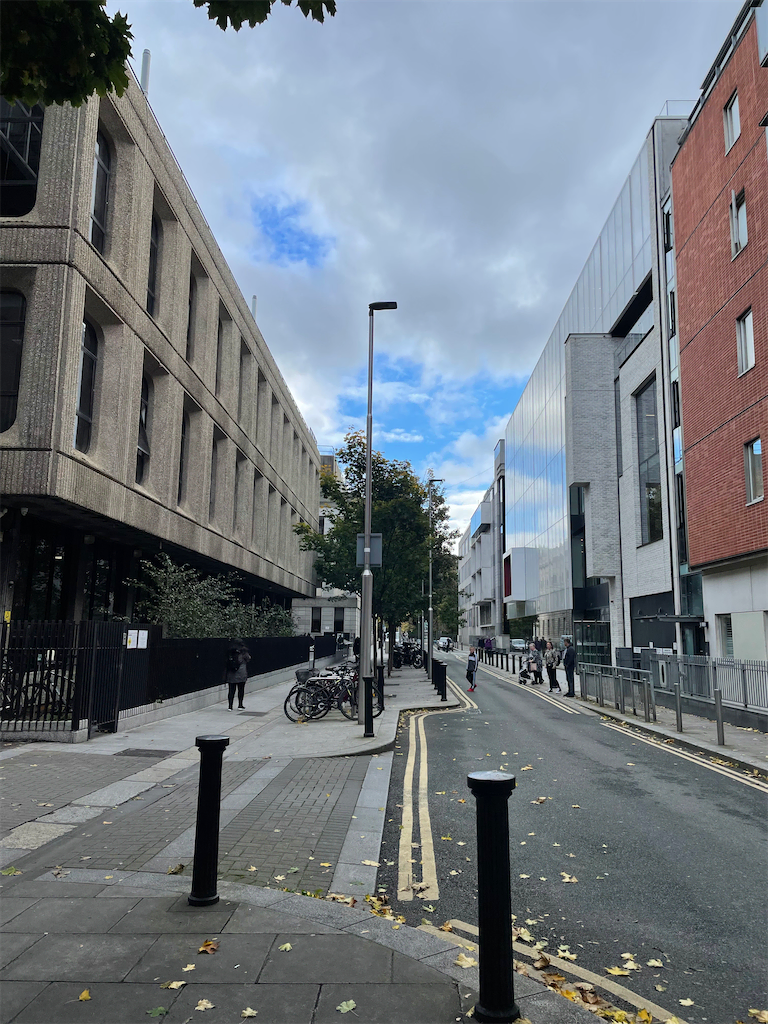 Sráid Eabhrac, Baile Átha Cliath. Níl ann níos mó don teach ar mhair agus ar bhásaigh Charles Maturin ann.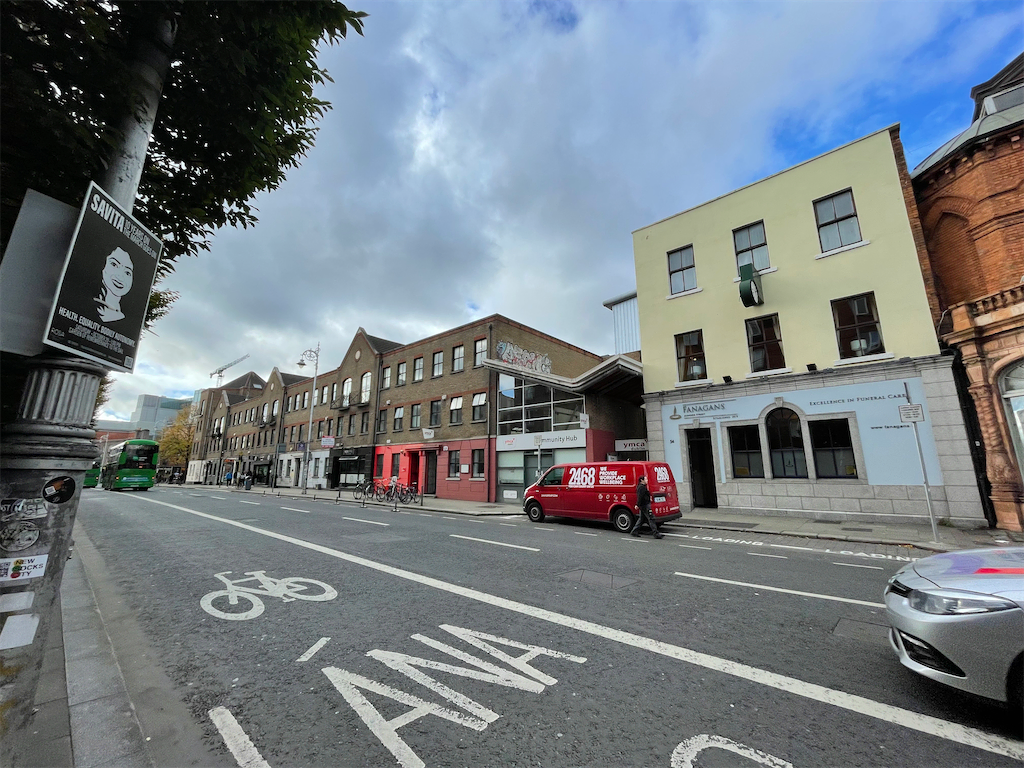 Aungier Street, Dublin. Charles Maturin was the curate at St Peter's Church, which is now a YMCA.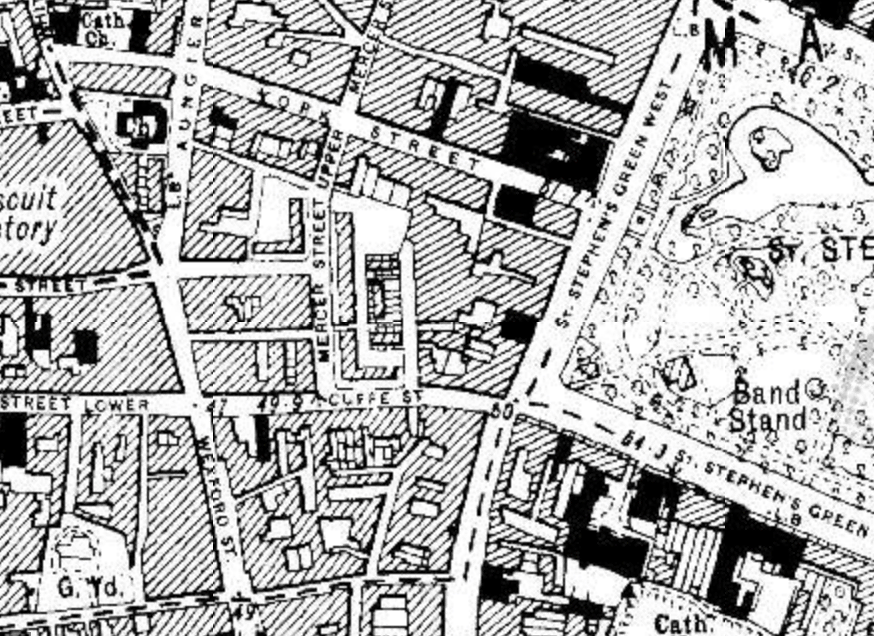 A nineteenth-century map showing St Peter's Church and York Street.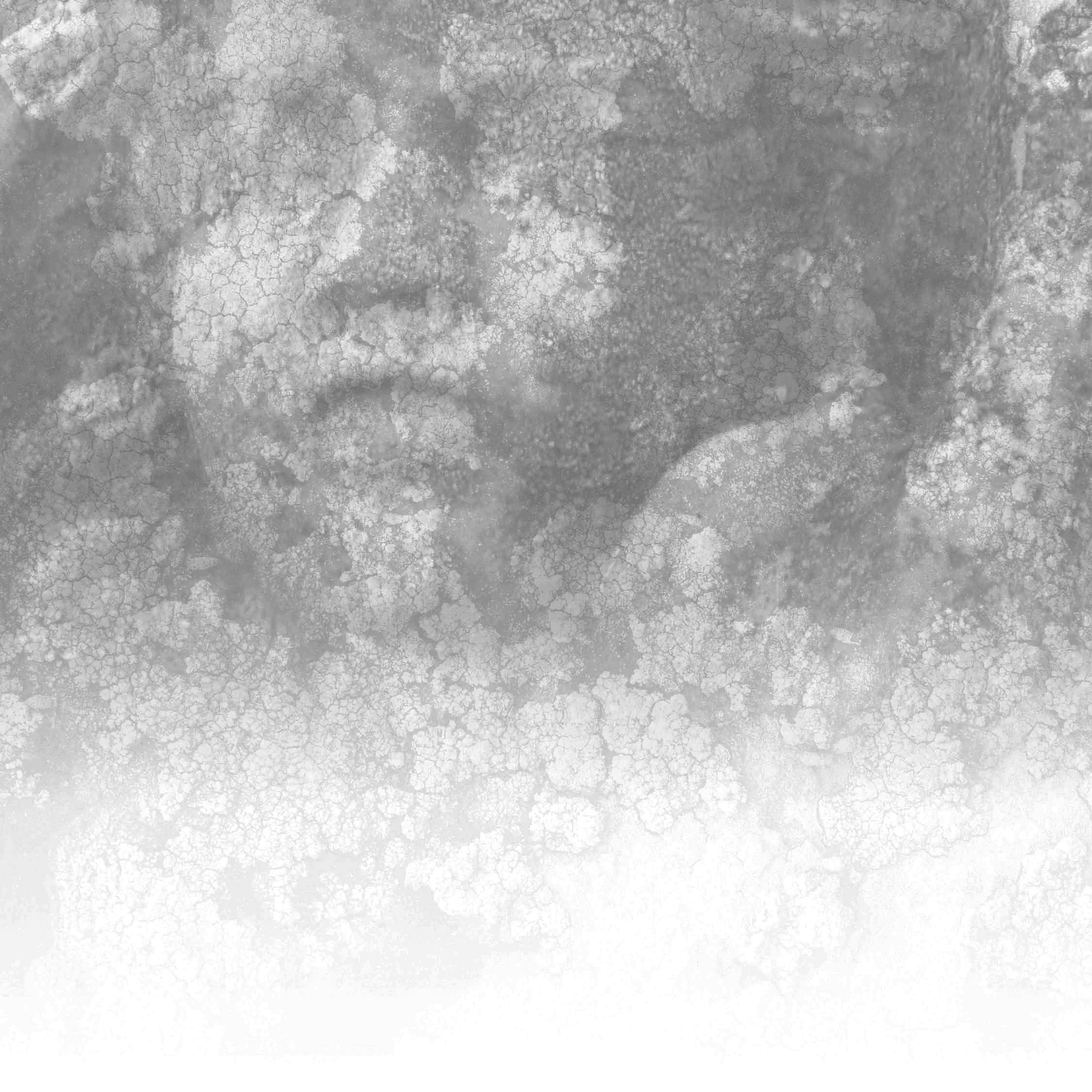 "

Many a month of gloomy unconsciousness rolled over me, without date or notice. One thousand waves may welter over a sunk wreck, and be felt as one.

"
– Charles Maturin, Melmoth the Wanderer, 1820
An urban gothic
Decrepit castles, villainous monks, persecuted heiresses – these are only a few of the most recognisable gothic devices found in romantic literature. At its heart, the gothic represents an interruption of the past into the present, the return of repressed memory and trauma. 
The original eighteenth-century Anglo-gothic romances, popularised by Horace Walpole, Matthew 'Monk' Lewis, and Anne Radcliffe, were set in convents and castles in foreign and exotic locales, projected safely onto a distant country and into the past. Charles Maturin's Melmoth the Wanderer (1820) is the last of these great gothic novels, although its focus on psychological terror marks a shift towards newer forms of horror writing. 
As the industrial revolution of the nineteenth century ushered in an explosion in population growth and increased urbanisation, the urban gothic was born. The nightmares of gothic writing were now unfolding much closer to home.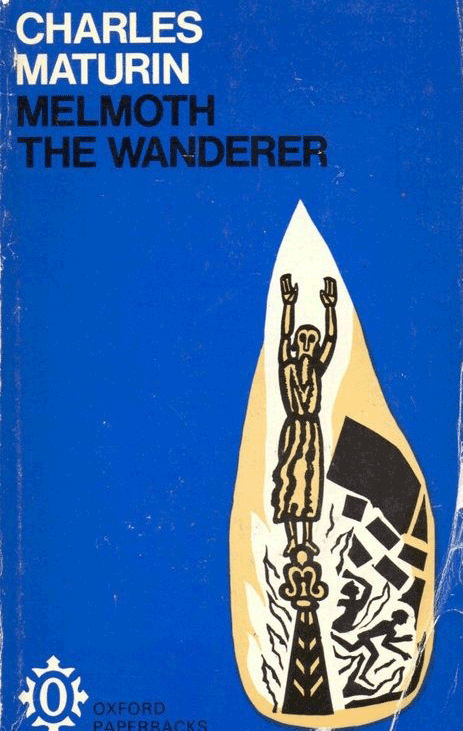 Sheridan Le Fanu (1814–1873)
Joseph Sheridan Le Fanu was born 28 August 1814 at 45 Lower Dominick Street, Dublin, into a family descended from Huguenot nobility. In 1826 his family relocated to Abington, County Limerick, where his father served as a Church of Ireland clergyman.
After studying classics at Trinity College Dublin, Le Fanu passed the bar exams in 1839, but he never practised law. He became a prolific journalist, novelist, editor, and short-story writer. His contributions to gothic literature include his ghost stories, such as 'Green Tea' (1869) and 'The Familiar' (1872) and the locked-room mystery novel, Uncle Silas (1864). The vampire novella that later inspired Bram Stoker, Carmilla, followed in 1872. 
From 1856, Le Fanu rented the family home of his wife, Susanna Bennett, at 18 Merrion Square. After Susanna's sudden death in 1858, Le Fanu gradually withdrew from society, and was known as 'The Invisible Prince' because of his reclusiveness. 
Le Fanu died at home on 7 February 1873. He is buried in Mount Jerome Cemetery, Dublin.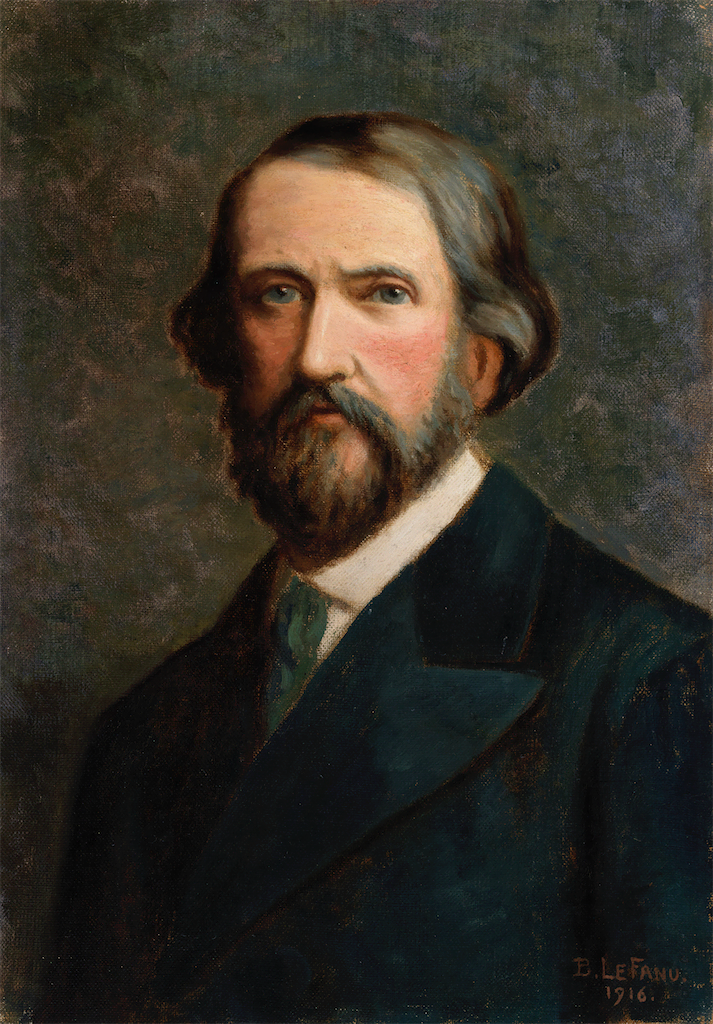 Audio
Christmas Ghost Story: The Familiar
Originally published in 1847 as 'The Watcher', Le Fanu's story is performed here by Michael James Ford in an edited and abridged version.
Audio
Dublin Gothic Podcast: The Psychology of Horror
In this episode, Dr Katie Mishler interviews horror aficionados Dr Noreen Giffney and Brian J. Showers about the psychology of horror, the lasting impact of Joseph Sheridan Le Fanu's ghostly terrors, and why we find comfort in experiencing fear.
Gallery
70 Merrion Square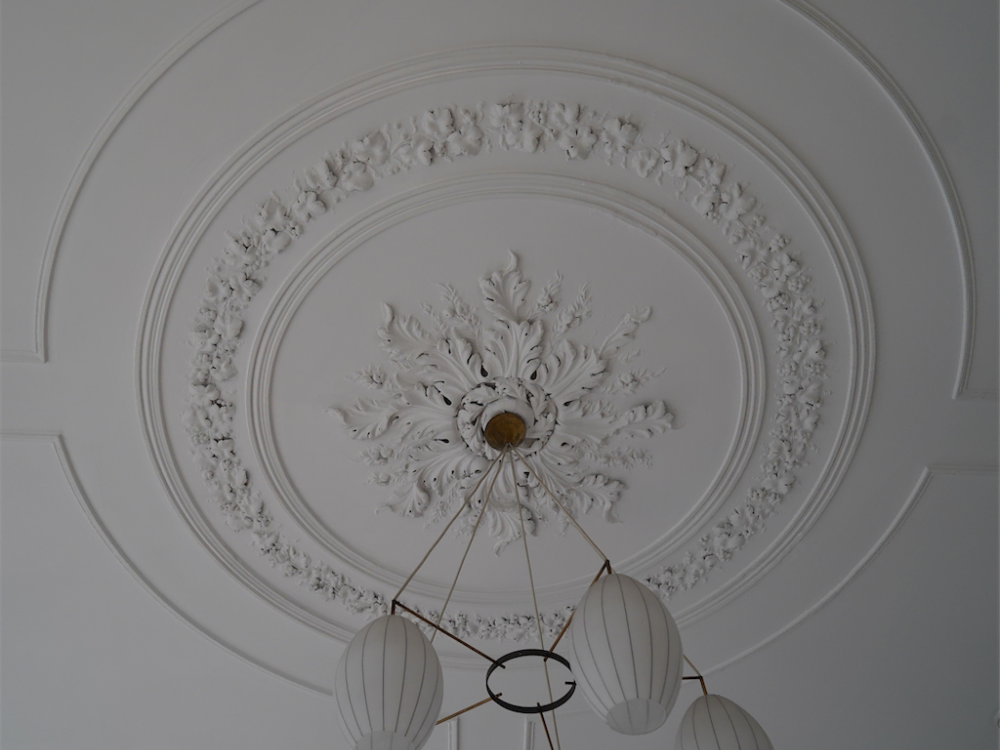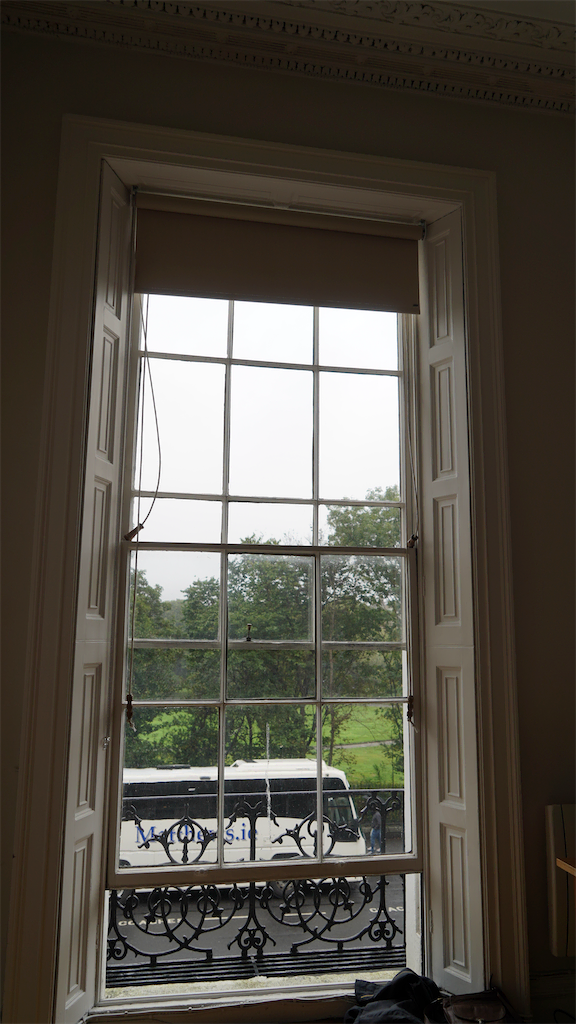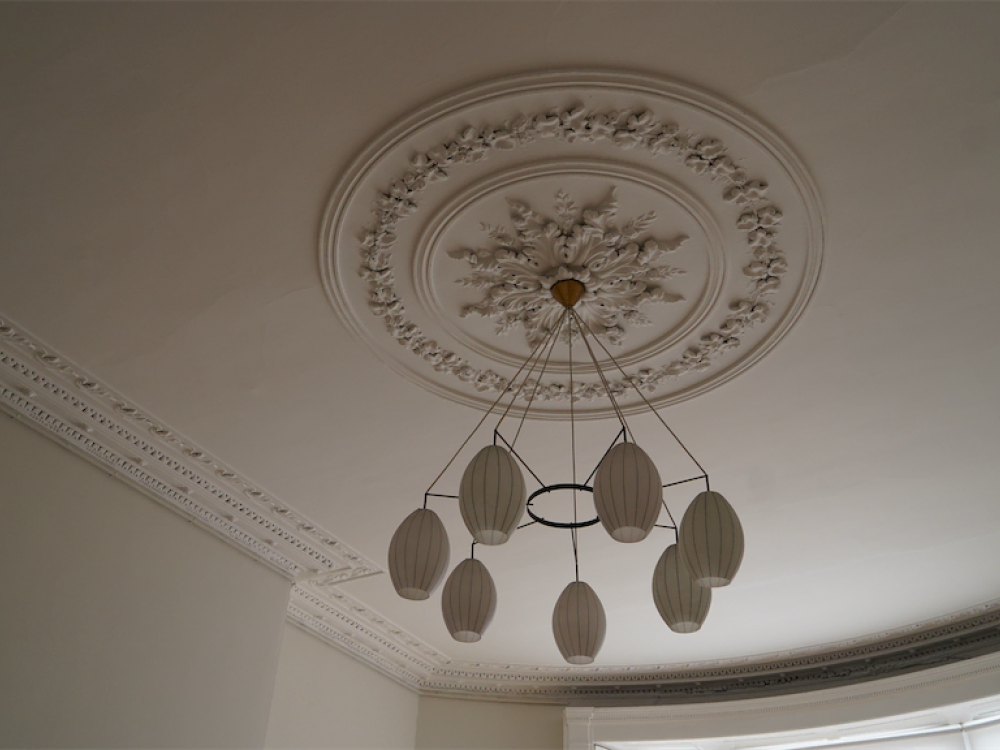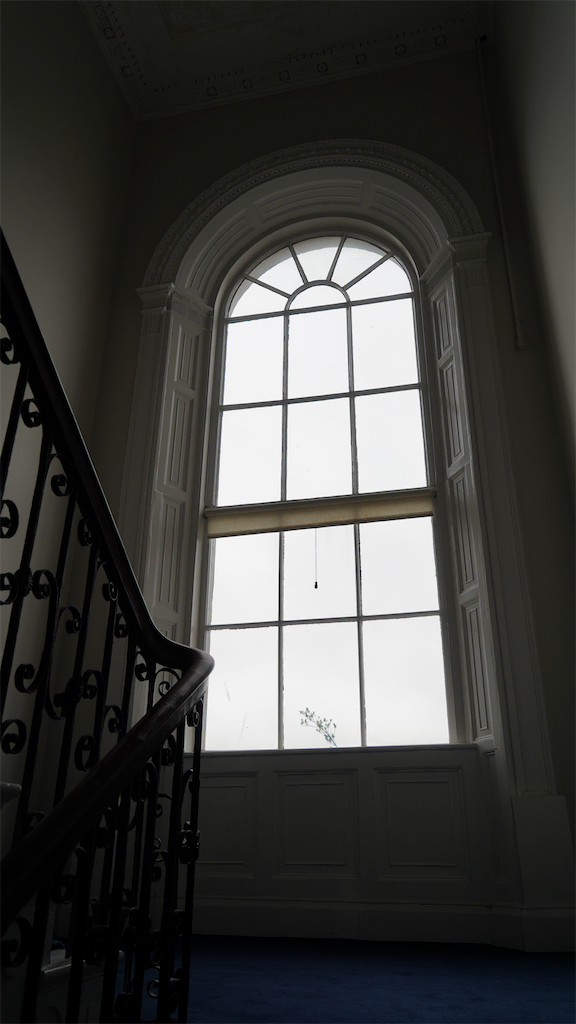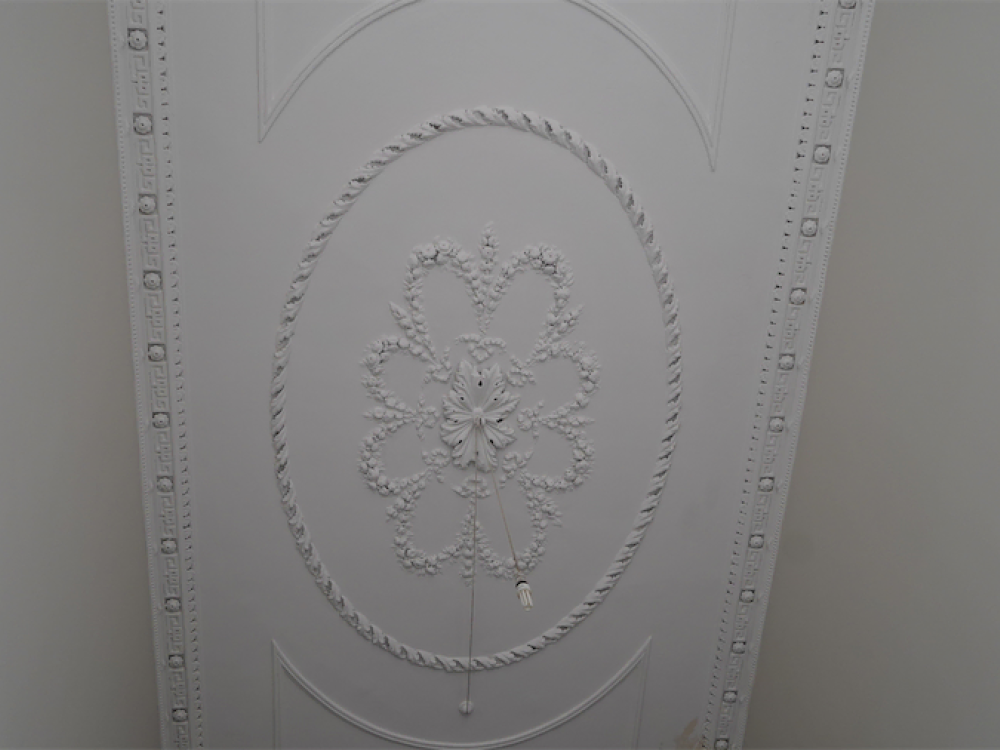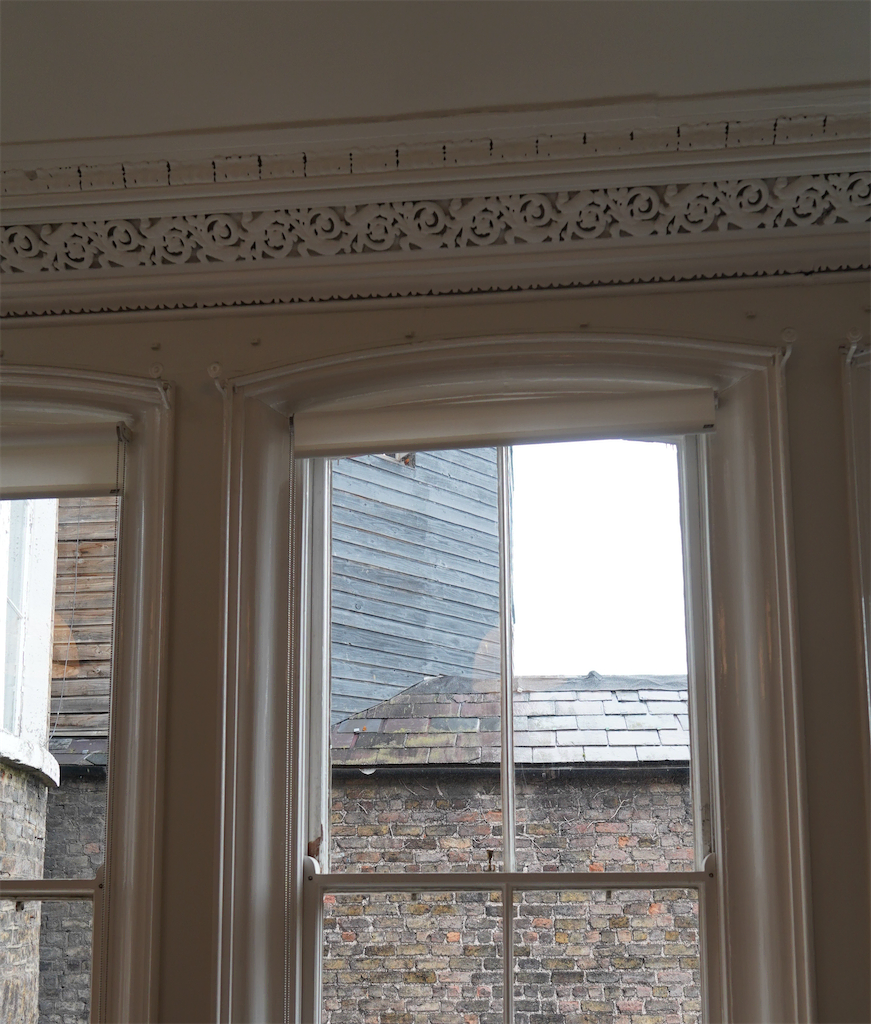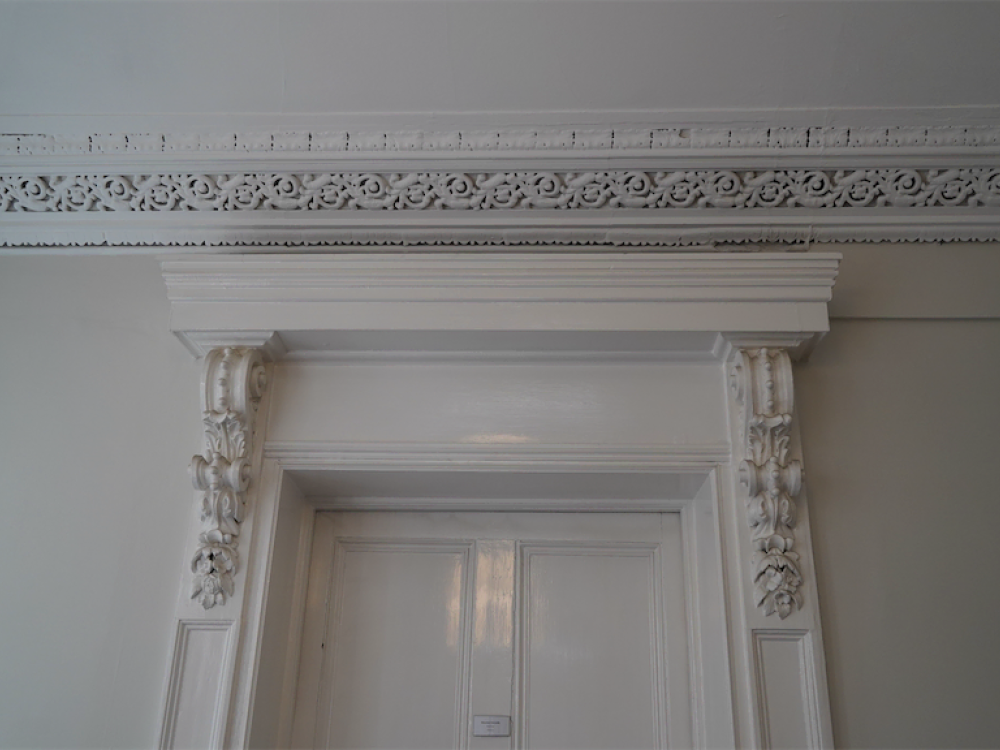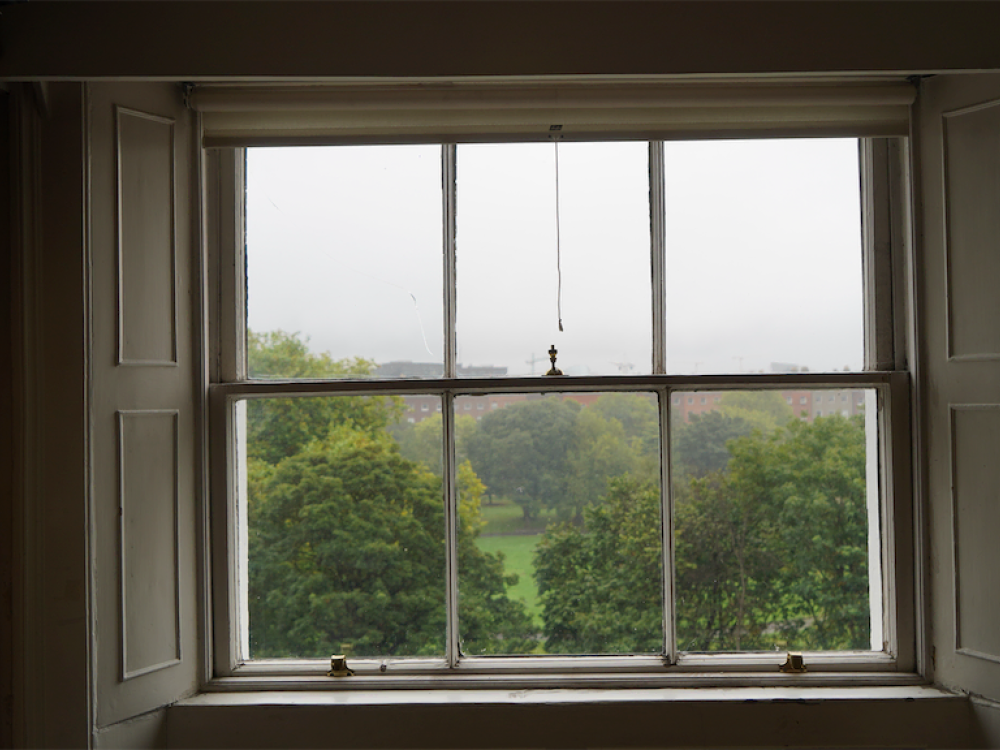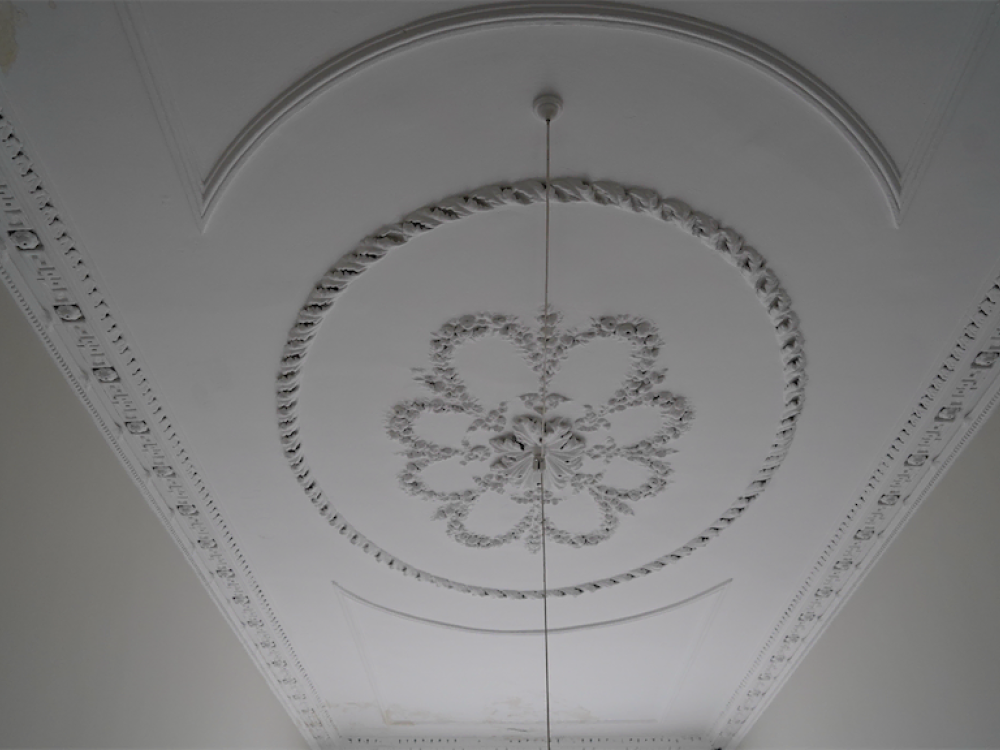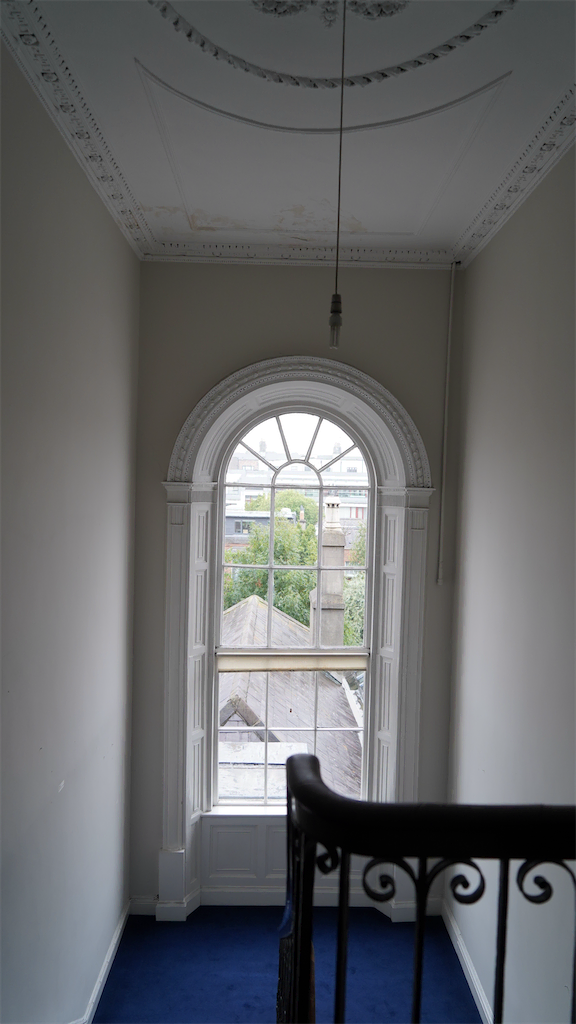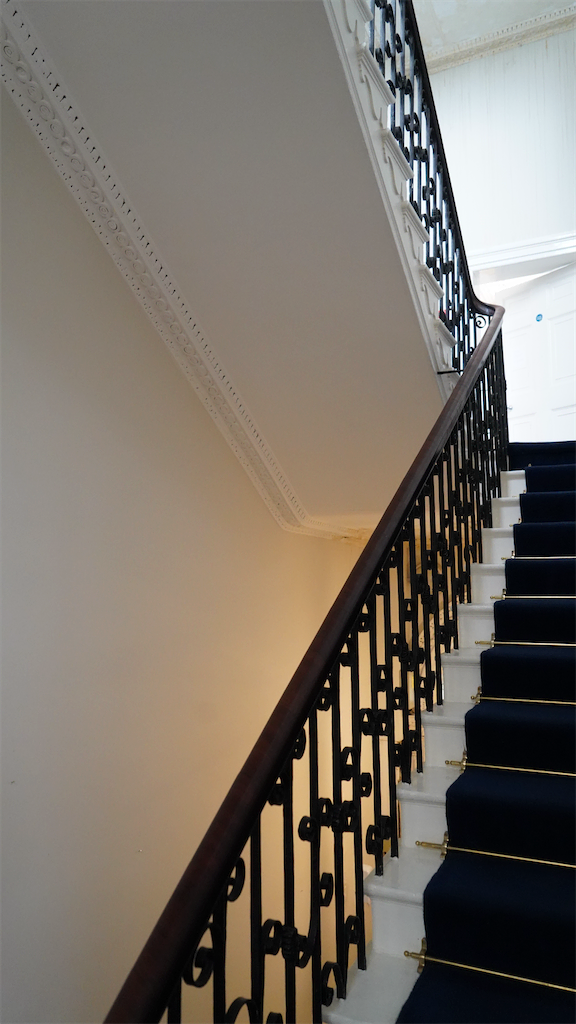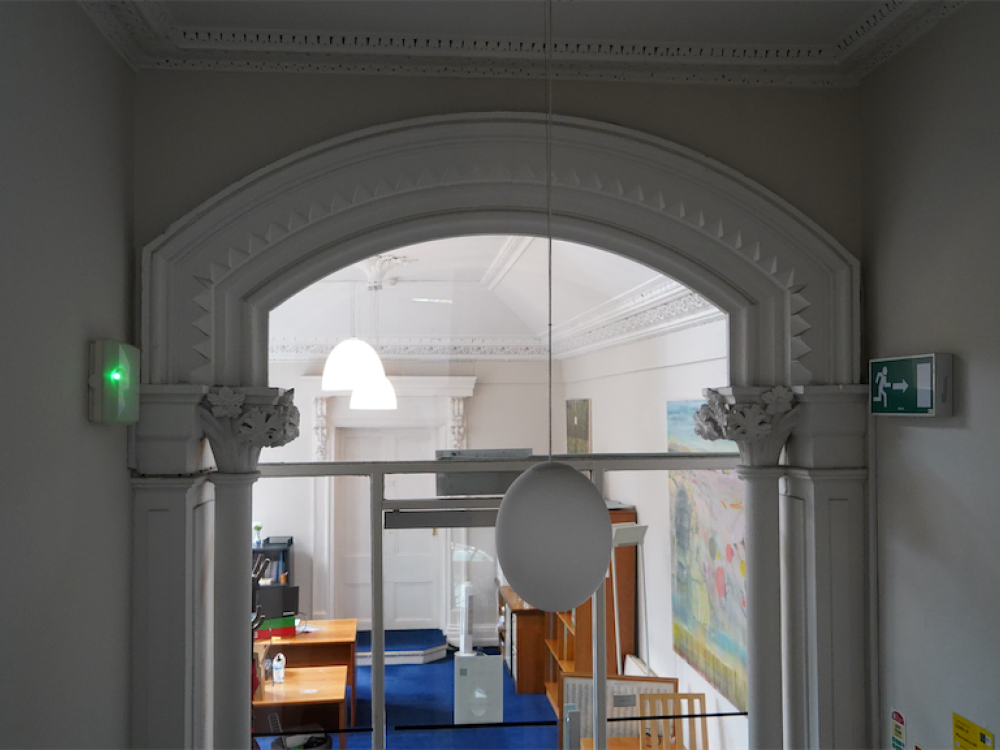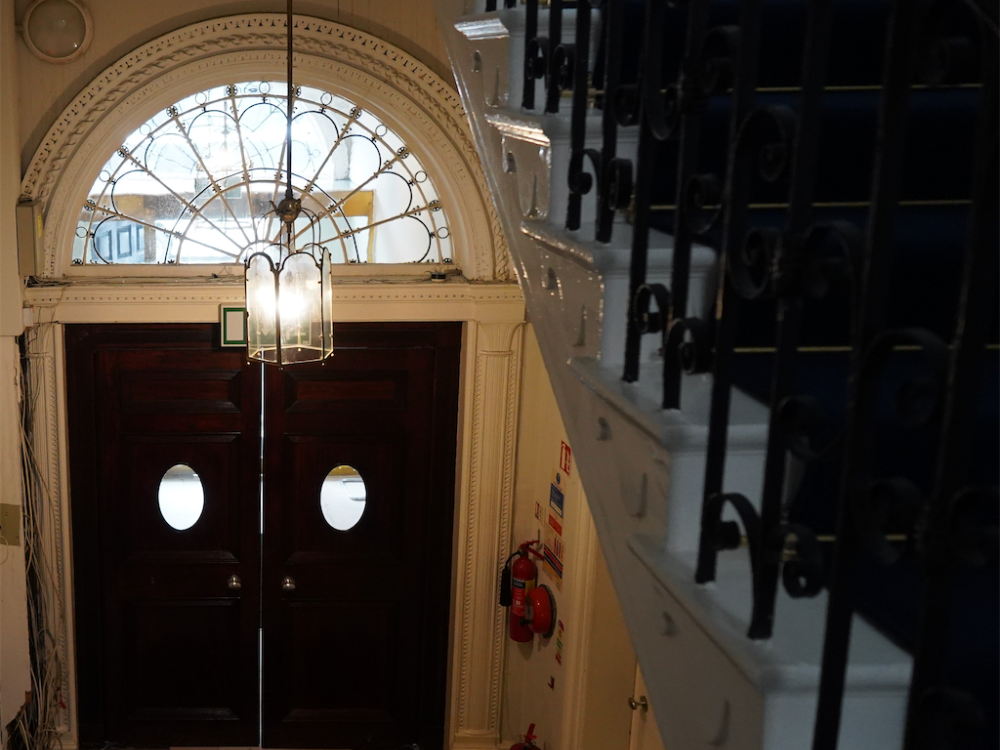 A look inside Sheridan Le Fanu's former home on Merrion Square, now home to the Arts Council / An Chomhairle Ealaíon.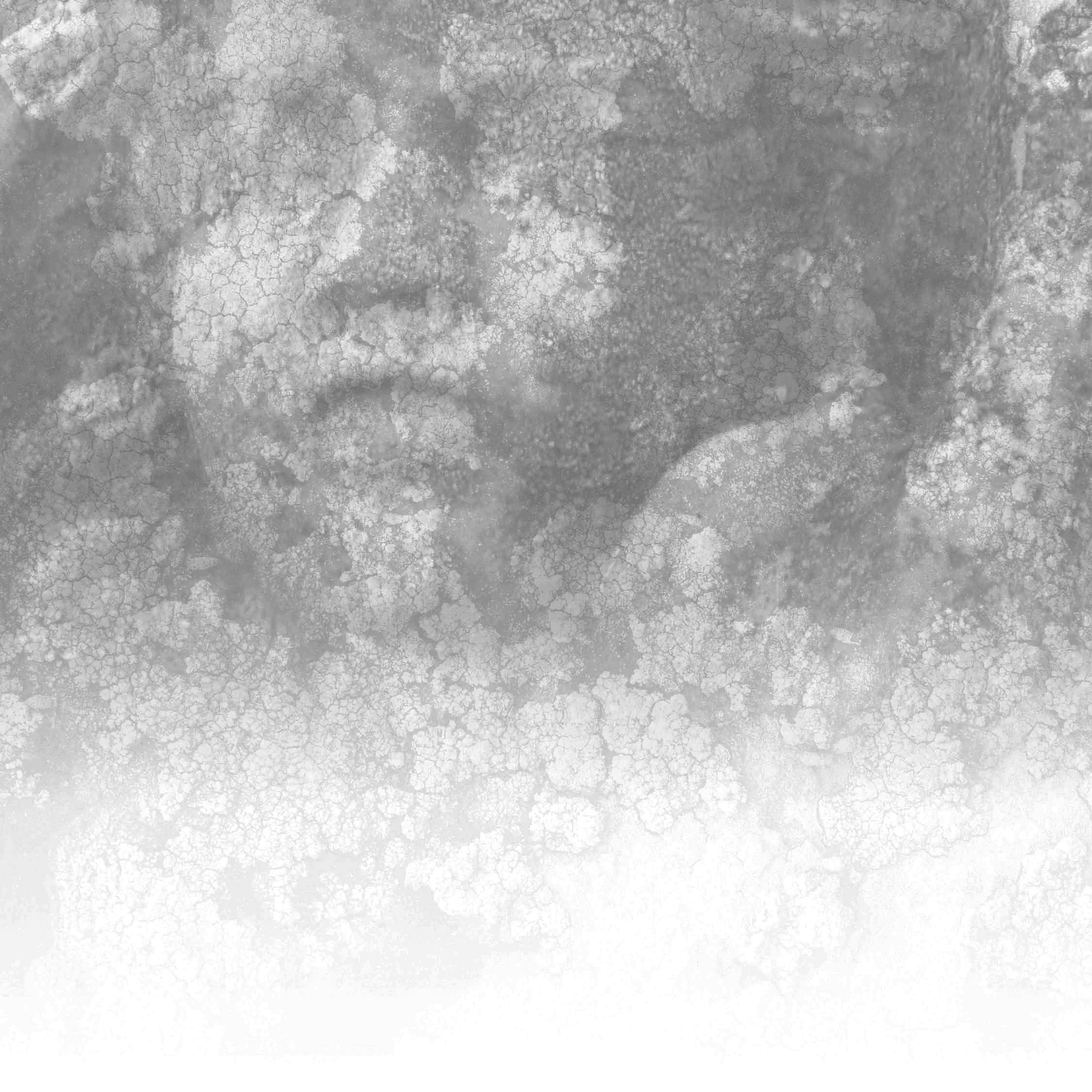 "

But to die as lovers may – to die together, so that they may live together.

"
– Sheridan Le Fanu, Carmilla, 1872
A new architecture of terror
Rather than exploring society's greatest fears and anxieties from a distance, the horror of supernatural happenings gained an immediacy when set in the nineteenth-century city. This new gothic form expressed the anxieties of modern life, such as the unnerving proximity of strangers and the labyrinthian, unknowable spaces that developed through urban and industrial expansion. 
Similar to the haunted castles and convents of its romantic predecessors, the architecture of the city contributed powerfully to the urban gothic's overwhelming sense of danger. In the 1840s, Le Fanu wrote haunted tales set in Dublin and London, placing his ghosts on horse-drawn omnibuses and trains as they invaded the city streets. 
Of course, the otherworldly fringes of the celtic periphery and the remote countryside still provided inspiration - Le Fanu and Elizabeth Bowen have also written 'big house' novels set in the isolated, dilapidated country estates of the Anglo-Irish.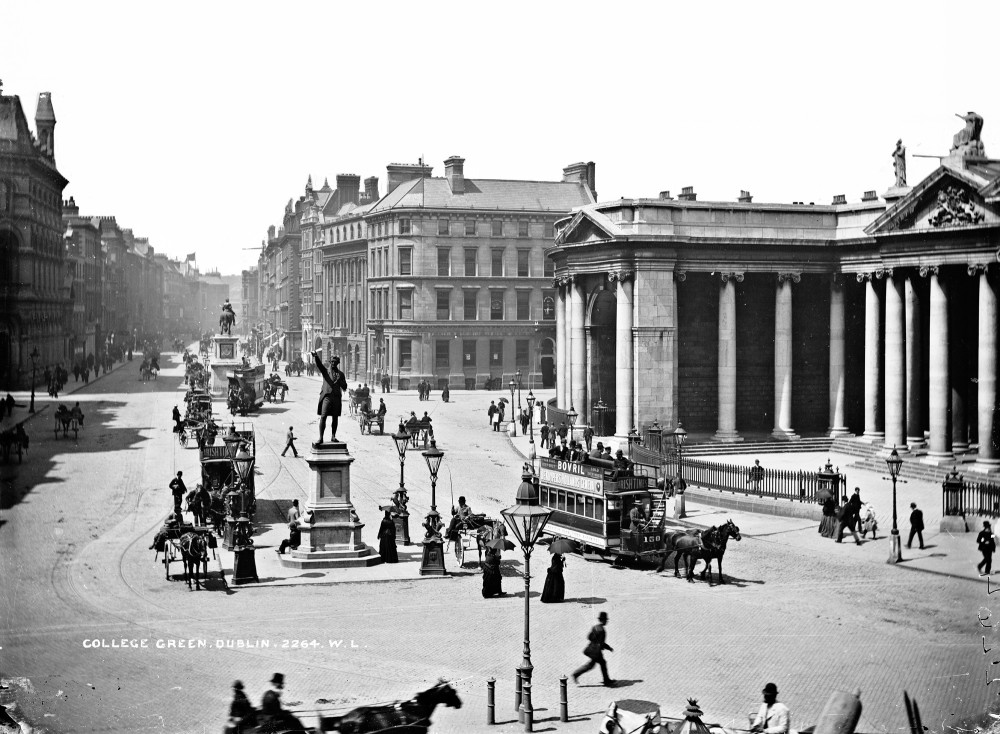 Radhairc ó dheireadh an naoú haois déag ar lár chathair Bhaile Átha Cliath. Foinse: Leabharlann Náisiúnta na hÉireann.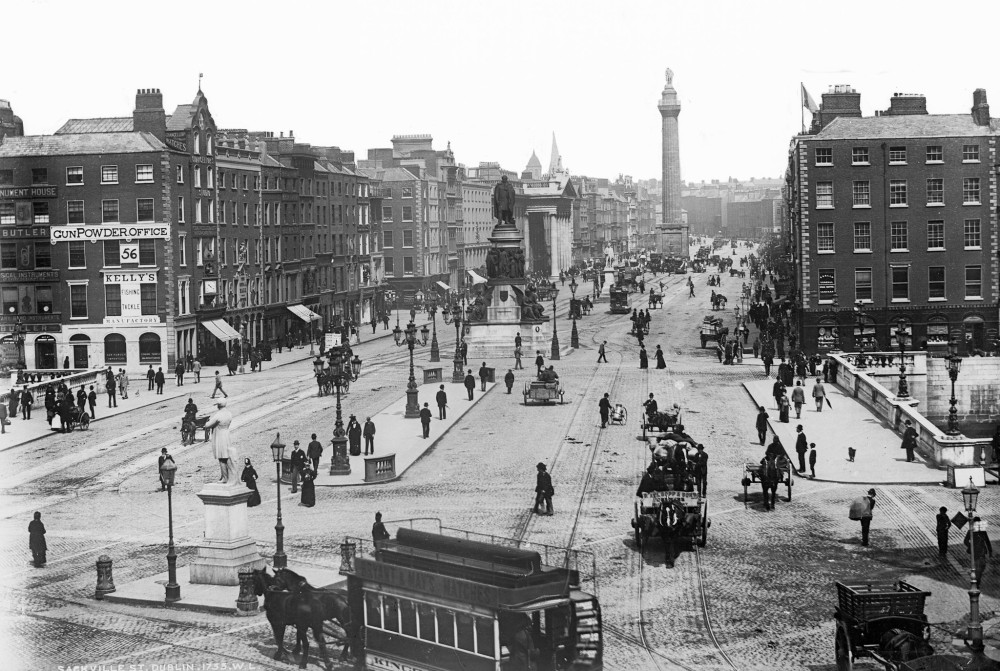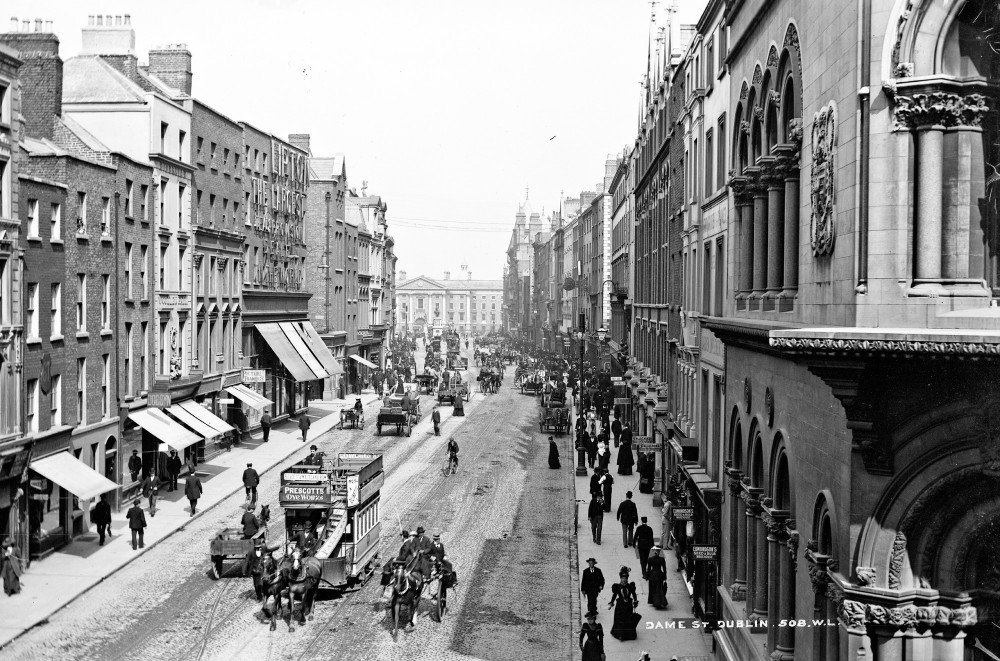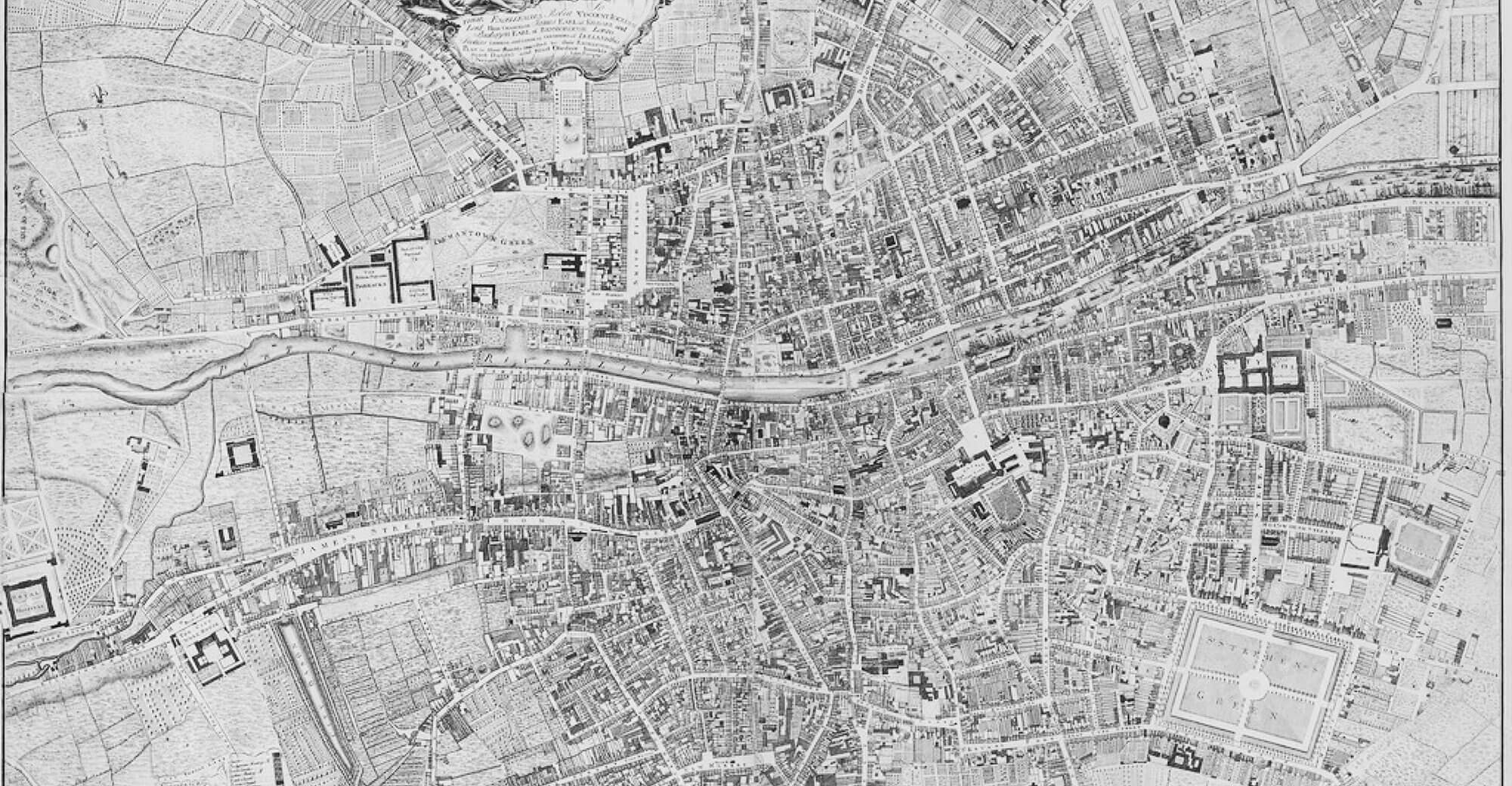 Léarscáil John Rocque de Bhaile Átha Cliath, 1756.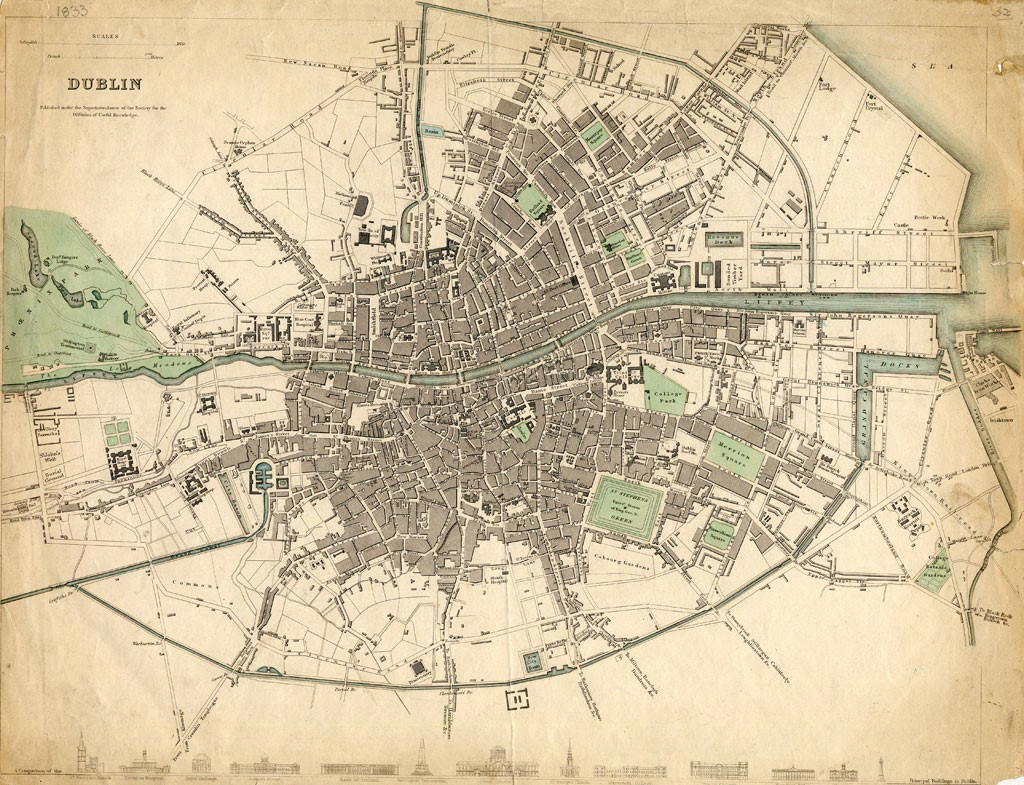 A map of Dublin from 1833.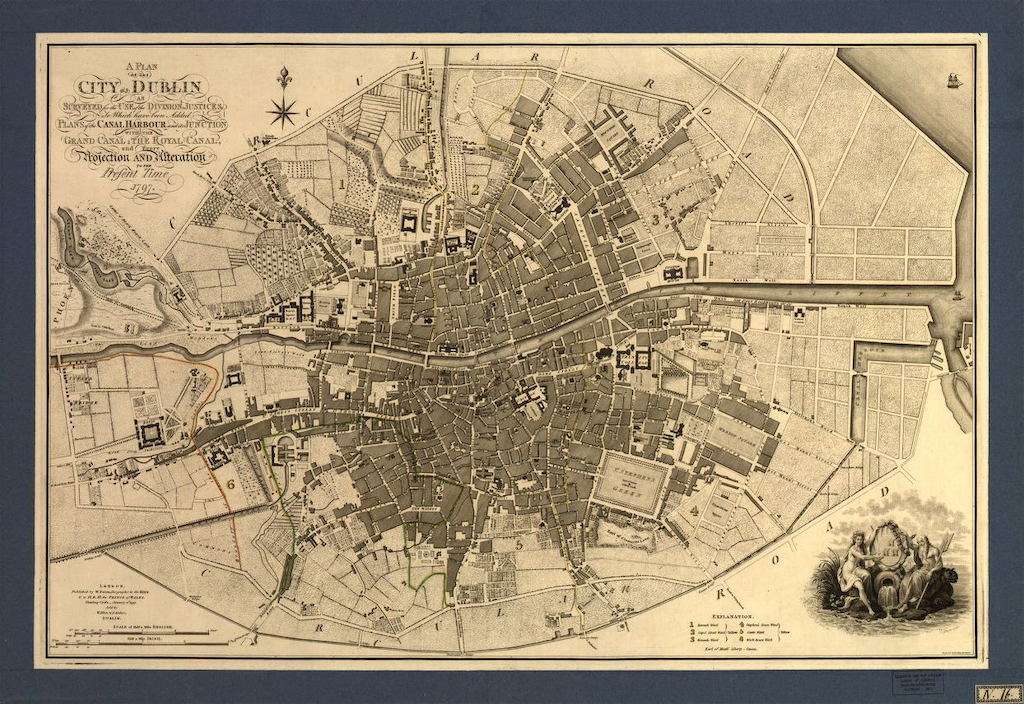 A map of Dublin from 1797 produced by William Laden.
Bram Stoker (1847–1912)
Abraham (Bram) Stoker was born at 15 Marino Crescent, Dublin on 8 November 1847. Until the age of seven, Stoker was bedridden with an undiagnosed illness. These years seemingly fueled his imagination. His mother Charlotte entertained him with supernatural folktales and stories from the cholera epidemic that she witnessed as a girl in Sligo. These stories later shaped Dracula (1897), a tale of contagion and the undead that introduced the most enduring and recognisable character in gothic literature. 
Stoker attended Trinity College Dublin before becoming a civil servant at Dublin Castle, the administrative centre of British rule. He married Florence Balcome, a great beauty formerly courted by Oscar Wilde, in 1878 at St Ann's Church, Dublin. The same year, Stoker moved to London to manage Henry Irving's Lyceum Theatre.
Stoker died after a series of strokes at 26 St George's Square, London on 20 April 1912. His ashes are interred at Golders Green Crematorium, London.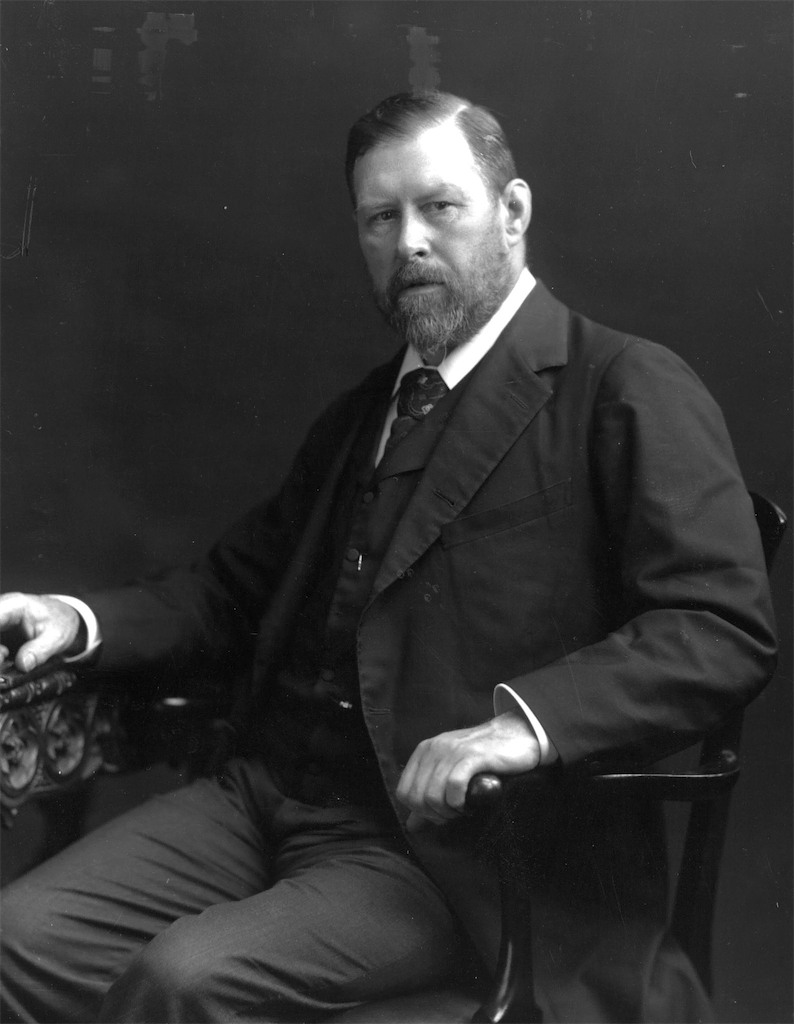 Video
Ghosts of Dublin: The Judge's House
Originally published in the Christmas annual Holly Leaves, Bram Stoker's 'The Judge's House' (1891), an extract performed here by Ned Dennehy, recounts the gradual decline of Malcolm Malcolmson.
Audio
Dublin Gothic Podcast: Daughters of Dracula
This panel discussion, recorded live in MoLI's Old Physics Theatre, led by Dr Katie Mishler and featuring Sarah Davis-Goff, Doireann Ní Ghríofa, and Sophie White, uncovers how the gothic monstrosities of Bram Stoker and others continue to be a powerful metaphor for social anxieties, marginalisation, and historical erasure.